NOVEMBER 21, 2011
Analysis: Honda to come back with McLaren?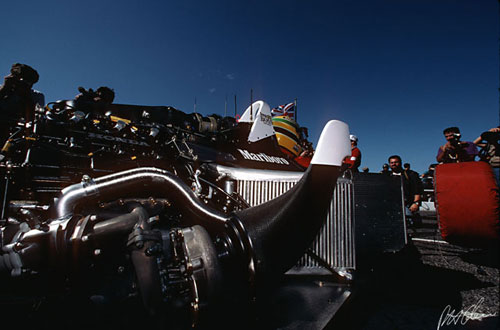 The respected German publication Auto Motor und Sport reports that Honda could be considering a technical collaboration with McLaren to start when F1 makes the move to small capacity turbocharged engines in 2014.

The two companies enjoyed a highly successful association between 1988 and 1992, which resulted in four drivers' championships - three for Ayrton Senna and one for Alain Prost - and four consecutive constructors' titles for McLaren.

Honda then withdrew as engine suppliers at the end of 1992 before returning with the nascent British American Racing outfit in 2000, increasing its stake-holding until it bought out the Brackley-based outfit in its entirety and campaigned as a works outfit between 2006 and the end of 2008, when it withdrew from F1 once more amid the global economic downturn.

McLaren is currently believed to have an agreement for the supply of Mercedes-Benz engines through to the end of 2015 but with the German company having its own works operation since buying out Brawn GP at the end of 2009, it is easy to see McLaren wanting to pursue a more exclusive future arrangement.

Traditionally, Honda was attracted to F1 for the technical challenge and the opportunity it offered to further the competence of its engineers. Currently though, F1's prescribed 2-4-litre V8s do not fit well with manufacturing marketing trends based around efficiency.

That will change in 2014, however, with another volume manufacturer, Renault, looking handily replaced. The company already supplies reigning double constructors champions Red Bull Racing, Lotus-Renault, the renamed for 2012 Caterham team and, new for next year, Williams, revisiting a highly successful partnership from the nineties.

Renault F1's Rob White says: "There are no longer any normally aspirated diesel engines in production, they're all turbocharged and there are less and less normally aspirated gasoline engines. The future direction is downsized turbo engines.

"We're also heavily committed to electrical traction in our road car range and so we are equally pleased to see that in the new F1 rules.

An allotted quantity of fuel for each race and a fuel flow rate limit, means that the only way to do it is to be efficient.

"There are a lot of things still to play out in how the sporting rules could be written, but if we take the technical regulations as they stand, limited fuel for the race is a very similar process to the task that is in front of every single car manufacturer -- to be able to do a trip to the shops with the smallest amount of fuel.

"The scope of the 2014 project is really quite vast. It's a pretty radical set of rules that's going to change quite a lot in the sport."

Turbocharging and fuel limitations have been seen in F1 but where the new F1 engine regulations are truly innovative is in the combination of turbocharging and energy regeneration.

"We really do think it's quite novel," White explains, "because not only is the engine allowed to be turbocharged but we can recover exhaust heat by coupling a generator to the turbine in the exhaust. That's know-how that we must acquire and it will be available to the group when we acquire it."

The kinetic energy recovery systems (KERS) currently used in F1 are similar to those first seen in 2009 and relatively limited in impact, offering around 0.3s per lap to the overall performance equation.

For 2014, however, they will be altogether more powerful, with twice as much power (120KJ) and significantly increased energy from the batteries meaning that the overall impact of KERS will be up to 10 times as great as it is now.

Suddenly, the tasks facing F1 engine manufacturers will have much more relevance to the road car side of their business. It will be about a number of energy optimising tasks and you can see that being right up Honda's street.

Whether the economic and internal political climates are right for Honda is another matter. That will come down to decisions taken at board level but, if the company is looking seriously at F1 once more, what better partner than McLaren again?