NOVEMBER 13, 2011
Pirelli investigates Vettel failure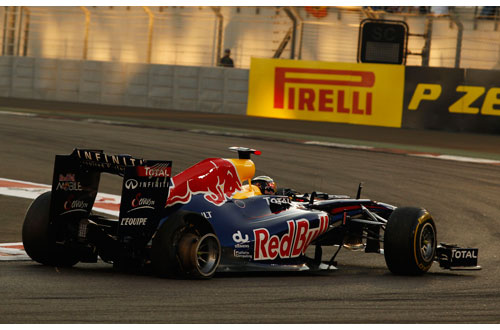 Pirelli and Red Bull Racing are working together to solve the mystery of pole position man Sebastian Vettel's first lap tyre failure in the Abu Dhabi GP, the world champion's first non-finish of a dominant season.

Vettel led into Turn 1 after a good start but then spun out as he suffered an instant tyre deflation and further damage to the RB7's suspension.

"He just appears to have been unlucky today," said team principal Christian Horner. "The tyre was fine going into Turn 1 and then you could see an instantaneous loss of pressure.

"I think the suspension damage was from where the rim dug into the ground when he was spinning. It damaged the track rod beyond being able to run. It would have been unsafe to continue."

Horner confirmed that Vettel had taken the same line into Turn 1 as usual and suspected that debris from a support race was the most likely explanation.

"The whole team was a bit frustrated today because Seb did a superb job yesterday, one of the best qualifying laps of his career to get pole position. It was cruel luck to be forced to retire in that way."

Pirelli's motorsport boss Paul Hembery added post-race: "We've just been out there with Seb, having a walk around to see if there is any debris on the circuit. To be honest, we can't find anything. We're chatting to Red Bull now and working together to try to understand what happened and give Seb some explanation.

"It was a set of tyres that had already done qualifying and quite an aggressive qualifying at that, so you wouldn't normally expect to have a tyre come off a rim or anything like that.

"We will work late tonight and if we haven't got the equipment here to analyse it, we will send it to Milan and try to provide some answers. You've got to understand that he went on for quite a distance. That's what actually caused the suspension problems because the tyre got wrapped around the suspension and actually snapped it. So you're looking at a bag of bits that makes it hard to analyse and you have to keep an open mind."