MARCH 27, 2011
Button robbed in Melbourne?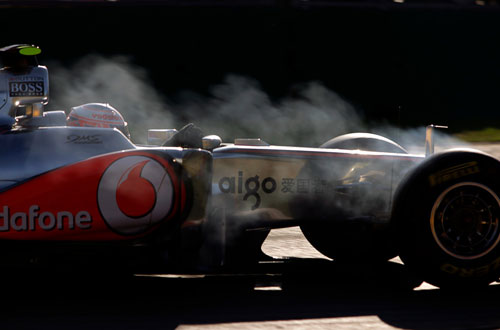 After a difficult winter McLaren went away from the Australian GP delighted that Lewis Hamilton finished a strong second in a car that demonstrated genuine pace, but frustrated that a stewards decision robbed them of a double podium finish.

Jenson Button, who qualified fourth but lost places at the start when he was pushed wide by Vitaly Petrov in Turn 1, was later given a Drive Through penalty for missing out part of the track when trying to go around the outside of Felipe Massa in Albert Park's long left-hand Turn 11. He eventually finished sixth.

"Felipe was so slow and difficult to overtake," Button said. "He slowed us both down massively. I was in front before we turned in, but he went really deep into the corner and pushed me wide so that I couldn't take my normal line."

Team principal Martin Whitmarsh takes up the story: "I think Jenson was very unlucky. We didn't see it but he told us about it on the radio and we immediately advised the FIA and asked what they wanted us to do. We were told by race control that they'd get back to us but they didn't. The next thing we knew it went to the stewards and by that point also, Ferrari had stopped."

It meant that the opportunity for Button to give the place back had gone. "We were then in the hands of the stewards and you can't do anything about that," Whitmarsh added. "I think it was pretty tough but I haven't seen the information and I'm not a steward. You just have to look at the data and we would have had a double podium.

"On performance we had a car that was not quite on the pace of (race winner) Sebastian (Vettel) but we had the pace of Mark (Webber) and certainly of Ferrari and any other cars. It's not quite good enough but it's a good basis to start. What we had here in Australia was put together very quickly, was inevitably not the best job we can do and the job now is to make it better for Malaysia.

"Lewis did a great job and obviously had a floor problem. Until that point he wasn't quite as quick as Sebastian but I think it was pretty close until then he lost probably five to eight points of downforce. At one point I wasn't sure that his damaged floor was going to get to the end of the race. After that we were conservative, we didn't want him to run wide again or use the kerbs and he did a very solid job.

"But, we go away from here knowing we had the pace to have two cars on the podium without anyone having a mistake in front of us. That was genuine pace. The drivers have had a hard winter and so has the team and it's fantastic to come out of it and be that strong. It's a long championship and we've got to dig deep and improve race by race."