FEBRUARY 8, 2011
Analysis: what will Renault do?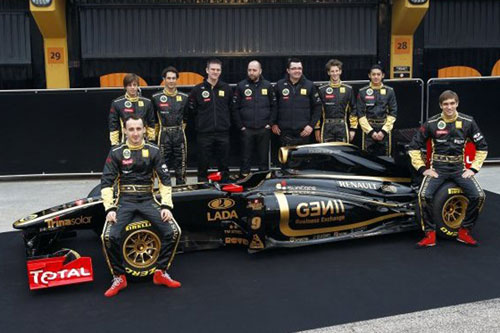 Although Robert Kubica continues to show promising signs of recovery 48hrs after his rallying accident, it is obvious that he is going to be incapacitated for a considerable time.

The chief surgeon suggested that it was impossible to estimate the time for recovery of hand/arm functionality and much will depend on the response of Kubica's injuries in the next week or so. Italian medics spoke in terms of a 12 month recovery period, however, and even nine months would mean Kubica would likely not race an F1 car this year.

What Renault must do, therefore, is find a replacement most likely for the 2011 season while remembering that Vitaly Petrov is already under contract for 2012, so whoever fills in is likely to get just the one year gig at best.

With Petrov having just the single year of F1 experience and initial signs from the R31 highly promising, the team may choose experience, bearing in mind that constructors championship points have a huge bearing on the amount of FOM money a team earns. With that in mind, they may well take the decision that Nick Heidfeld is the safest bet.

Heidfeld, of course, drove alongside Kubica at BMW in 2006-07-08, at times outperforming the Pole. In fact, their performances relative to each changed significantly.

Kubica arrived at BMW alongside Heidfeld in the middle of '06, replacing Jacques Villeneuve, but in '07 the team switched from Michelin tyres to F1's control Bridgestones after the French company withdrew. In 2007 Heidfeld finished fifth in the championship and outscored Kubica 61 points to 39, besting him 11-5 in the qualifying head-to-head.

Kubica, more aggressive on corner entry, did not get on with the new Bridgestones, which wouldn't wear that approach. BMW's technical chief Willy Rampf reckoned that the change from Michelins affected Kubica more than anyone else in the paddock.

In 2008, however, with different tyre characteristics, the boot was on the other foot. The BMW F1.08 had a much more stable rear end, Kubica found he could attack with it and now it was Heidfeld in trouble. Nick's earlier, gentler turn-in often didn't generate the tyre temperature required for a decent qualifying lap. His race pace was fine but he started too far back. Kubica won the team's only GP in Canada and tied with Kimi Raikkonen on championship points as Kubica finished the season with 75 points to Heidfeld's 60.

Although Heidfeld would surely be a safe pair of hands and would do a decent job, as would Pedro de la Rosa, both have suffered to varying degrees in comparison with Kamui Kobayashi at Sauber last year. The Spaniard admittedly suffered the lion's share of Sauber's early season unreliability in 2010 but Heidfeld was at times a couple of tenths shy of Kobayashi at the end of the year and may be viewed as an uninspiring choice.

Eric Boullier has been quoted saying that Bruno Senna and Tonio Liuzzi are also under consideration. Senna, of course, has recently been signed as the team's third drive and would be seen by many as the natural choice as well as an interesting one.

But Bruno has had only a year's F1 experience and a year's experience in an HRT at that. Due to budget restrictions the only developments on HRT's Dallara chassis - that was not truly up to F1 standard - were a new fuel cell that actually agreed to pick up all the fuel, and a new wiring loom.

Basically, the only thing Senna was likely to learn how to develop at HRT, was a cold. It was difficult to gauge his true pace as well, but that could be addressed in the lead up to the season. Renault has tests at Jerez, Barcelona and Bahrain before the first race of the season and that should give them ample opportunity to assess whether Bruno is the man to put in. They could also elect to put him in for, say, the first four flyaway races and make a judgement after that.

Nico Hulkenberg, the Interlagos pole man remember, is also without a drive having been unfortunate to lose his Williams seat to the man who succeeded him as GP2 champion, Pastor Maldonado, undoubtedly for financial reasons.

Why would you put in Hulkenberg and not Senna? Well, by the end of the season he was nip and tick with Rubens Barrichello, F1's most experienced man and, no disrespect to HRT, he will have learned from sitting alongside Barrichello as well as by being part of a serious team environment with men like technical chief Sam Michael, following a proper development programme rather than merely making up the numbers.

What of Hulkenberg's contractual position as third driver with Force India? It's perhaps surprising that the upcoming young German was not named as the Mercedes reserve driver given that the three-pointed star missed out on the best years of Michael Schumacher and it might be considered careless not to get your hands on the man who looks to be the next best bet behind Sebastian Vettel.

Had Mercedes named him though, it might have been interpreted as putting pressure on Schumacher. Both Michael and Nico are managed by the same man, Willi Weber, and without knowing any details, it's likely that the Force India agreement with Hulkenberg is all linked to the team's Mercedes engine and drive train deal. MB Motorsport boss Norbert Haug is a believer that it is better to be driving something than nothing, so perhaps there was an engine discount in return for some seat time for Hulkenberg.

After the Schumacher brothers, Weber no doubt views Hulkenberg as his income stream for the next decade and is not about to do anything to jeopardise that. The new Renault looks very promising and the prospect of a year in it alongside Petrov has got to seem attractive. By the same token, Weber is unlikely to do anything other than sign his man to a season's race deal.

Perceptions are 90% of the F1 business and, right now, Hulkenberg's currency will be relative high, higher than Senna's, whether that's fair or not given Bruno has yet to have a decent crack. What you're probably not going to do in Weber's shoes is expose your man to a testing shoot-out. You'd probably be confident but why take the risk when you can sit tight and hopefully jump into Michael's seat when he stops for good? Instead, you'd probably say he's there, you can have him for a year or not at all, which might mean that Hulkenberg is a long shot.

Liuzzi is also experienced but did not fare too well in comparison with Adrian Sutil at Force India. Other drivers mentioned include Anthony Davidson, Romain Grosjean, already a Renault reserve driver like Senna but believed to be behind him in the pecking order, and even Timo Glock, who is experienced, quick and solid but, presumably committed now to Virgin.

With Valencia something of a one-off, much more will be learned about the respective performance of the 2011 cars in the coming three weeks, and that could influence just how hot Eric Boullier's mobile becomes! Renault may well take the opportunity to give seat time to different drivers. Boullier, as the man with the problem but also, to an extent, the man in the driving seat, has no real need to panic although the technical team will want to establish consistency at the earliest possible opportunity.