FEBRUARY 2, 2011
Fernando Alonso on the new Ferrari F150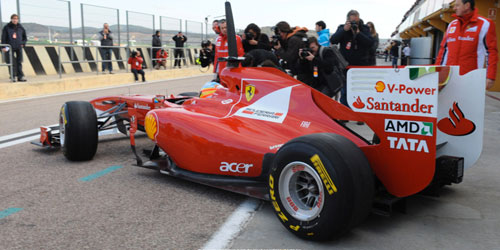 Fernando Alonso gives his views on the latest Ferrari chassis.

Q: What are your first impressions of the Ferrari F150?

Finally we could test it after so many months of hard work. I was very keen to try it and the first few laps with a new car are always exciting, always a bit emotional. All in all we had a very good first day. We completed a lot of laps and finished our program, so I can only be happy.

Q: What's your feeling about the new tyres?

We're quite limited in the number of sets we can use and that doesn't help us much. On top of that, degradation today was quite important, possibly because the track was not at its best after the severe rain we had in the region until the weekend. The fact was degradation was high, the number of sets is limited, so we couldn't do a lot of meaningful running as a back-to-back is not really possible, but it was the same for everybody and there's nothing to complain about, so it was a good day.

Q: When will you know the level of competitiveness?

Only at the first race can you have that picture. Look at what happened last year, where in the early testing we were very quick, but then we went to Barcelona for the last pre-season test and ended up sixth quickest, behind Sauber and Force India. So we went to Bahrain thinking we were sixth quickest team and ended up lapping both the Force India and the Sauber. Not even the last test is representative and only at the first race can we really know where we stand. Until we get to Bahrain we all have question marks

Q: Here you are running KERS and the moveable rear wing. How long before these systems are automatic?

After every lap you get more and more at ease with the two new buttons you have to press. In the morning I did one lap using KERS, the next lap using the moveable rear wing, just to get used to it, because I wasn't 100 per cent confident, but in the afternoon I started doing things almost in an automatic way. I think after three or four days of testing you won't even think about it anymore.

Q: You spent some laps behind Paffett, who was in last year's double diffuser McLaren. How much downforce have you lost?

You feel the difference but it's the same for everybody, so it's not a concern. In terms of running behind other cars, in turbulence, there's no change -- it was difficult last year and it will be difficult this year.

Q: What aspect of the new car has made an impact?

I have to say I'm a bit surprised by the level of reliability the F150 showed so far! We've had zero problems here, zero problems when we run it in the factory, in the test rig, and zero problems when we ran it at Fiorano on the filming day. That's unusual for a brand new car and a very positive sign. In the past we did runs of three to five laps in the first day, to check everything on the car, but today our first run was 12 laps and we had no concerns about reliability. The other surprise was the tyre degradation. They lasted just one lap at their best and then suffered quite a lot. I saw the same was happening to other drivers so we all have to learn how to use these new tyres to be well prepared once we get to Bahrain.

Q: Last year, after just one day of running, you said the F10 was the best car had ever driven. Can you say the same about the F150?

I think it's a bit too soon to say that. The loss of the double diffuser has cost performance to all teams. Last year we ran here in 1m11.4s on the first day of the pre-season, today we were running 1m13s-1m14s. To reach the level of performance we had last year in Abu Dhabi we'll need months of hard work and development.