FEBRUARY 2, 2011
Vettel gives new Red Bull the thumbs up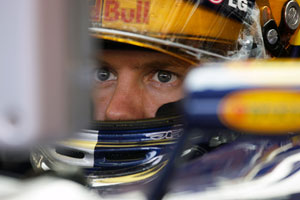 World Champion Sebastian Vettel was impressed with the new Red Bull RB7 that took him to the top of the first day's pre-season testing time sheet in Valencia.

Although varying track programmes can mean testing times are notoriously misleading, Vettel said that Red Bull had enjoyed an even better first day than in either of the previous two years.

"It's better to be at the top of the times than at the other end," he smiled. "Laps were the most important things today though and we ran over 90 of them and I felt comfortable in the car, on top of it and enjoyed myself.

"Winning is obviously the aim but it's a long testing season before we begin racing in Bahrain and then a very long 20-race season, so even if you start with the best car things can change and you need to keep the development up. This is just the first step but we can be proud and happy about what we achieved on day one. There hasn't been a lot of time between Abu Dhabi and now, just 10 weeks, and the boys have done a great job to build a car with no issues.

"There have been a lot of changes compared to last year, especially if you consider the diffuser and floors of the cars, with less complexity. There's a lot of buttons to press this year and the new tyres as well. The car does feel a bit different but not that much, which is a good sign."

Despite his strong start, Vettel was loathe to draw too many conclusions. "We've not seen the McLaren yet and today was just a first day. We need to have more time on the track with the others, who will be running different programmes on different days. The big rivals should obviously be McLaren, Ferrari and Mercedes and maybe a surprise with the Renault too, which has an interesting concept on their car."