FEBRUARY 1, 2011
Nico Rosberg on the new Mercedes MGP W02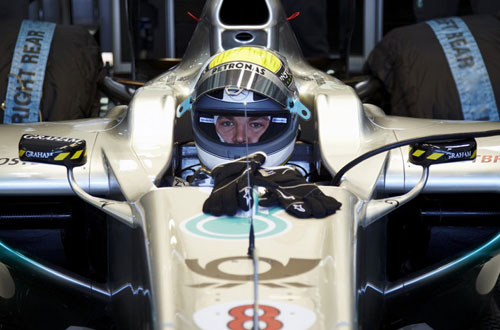 As the new Mercedes MGP W02 was unveiled in Valencia today, Nico Rosberg gave the car its track shakedown this morning before talking to the media about his first impressions. They must, however, be taken in the context of just nine laps completed before the car stopped with a hydraulic problem. Michael Schumacher was due out for his first taste of the car in the afternoon but with just 45 minutes of the day's running left, was still to emerge from the garage. The seven times champion may not be encouraged by his team mate's assertion that the Pirelli front tyre is weaker than the rear, as the Bridgestone was, which is believed to have contributed to handling characteristics that Schumacher did not get along with in his comeback year...

Q: What are your first impressions?

Rosberg: It was good, the positive thing is that I felt at home straight away, it didn't feel like a car I didn't know, which is an important thing to straight away feel comfortable. The initial impression is hard to compare because I did just one test with the Pirellis back in November on a different track, but the general impression was that it felt very good.

Q: What do you like better about the car?

I think it's just a better car in general. Ross (Brawn) has reorganised the company in many ways and improved the communications between the car and engine groups. It's going to be a big step for us. With the car, generally it's the aerodynamics but there's still a lot to come in the next few weeks.

Q: Did you try the new gizmos - KERS and the moveable rear wing?

I tried the moveable wing and it takes some getting used to. You push the button and the thing goes down at the back, so you feel the car get lighter and then you release the button again before the braking and you think, Jeez, what if this thing hasn't actually gone back to its old position. Then you are off in a big way. It takes a bit of trusting. With the KERS you could release it very late before the braking and so that's quite a natural way of doing it, but now you don't really know.

Q: Do you feel you matured last year and are more confident?

Well I was confident also last year, but for sure last season helped me gain even more confidence and I feel comfortable in the team. Last year it was a new team and it's a process to integrate yourself and really become a strong force. That has been going really well.

Q: Do you think expectations of you are much greater than 12 months ago?

From what I see, I think so, because of the fact that I beat my team mate last year and that's something that has worked well for me in terms of other people's perceptions. But I know that it's going to be difficult against him this year and a tough battle between us. Hopefully I can be ahead again.

Q: Why will it be more difficult - do you expect to see the old Michael this year?

Who's saying it wasn't the old Michael last year? Michael is driving a silver arrow and the combination of those two - a seven times world champion - you always have to reckon with that. Okay, he had a bit of a difficult season last year but we're one year down the road again and I go into it expecting that it's going to be tough to beat him.

Q: Is the adjustable wing giving the driver one too many variables and effectively telling you where you can overtake?

I think the idea behind it is good. It should make overtaking easier and nobody is going to ask why. If the racing is more spectacular and more exciting, that's it, full stop, F1 has become more exciting. The idea is very good but it's not zero concern. You still need to think about whether it's the right thing because yes, there is a lot going on right now with KERS and moving wings and so forth. KERS is also something you need to hold for a specific amount of time because you are limited. It all takes a lot of getting used to and doesn't come naturally. Once you've got the hang of it you need to judge whether it distracts you too much in a race situation. We need to keep an open mind on that.

Q: Do you see the sense of using the moveable wing in qualifying?

Not really.

Q: How big a change is the switch to Pirelli tyres?

It's significant. Driving-wise not so much because in the end actually the handling is quite similar and the way the car generally, due to tyres, understeers, which is a similar characteristic to last year and not something that I like. It's similar with the Pirellis, which have a bit of a weaker front relative to the rear. But that's what driving is about -- you need to adapt to different circumstances so that should be fine for me. The thing is also that you don't have so much experience with set-up with different springs and so on. With the Bridgestones you knew exactly what was going to happen and now with the Pirellis you start a bit from zero and going from one track to another you just lack that experience on set-up, which is going to make it a lot more difficult. And we don't know yet how much tyre degradation there's going to be in a race situation. We know that if there's more degradation that can make racing more exciting.

Q: With the moveable wing will we see chaotic opening laps with drivers not picking up the throttle or brake-testing each other to try to make sure the guy behind is not within a second when the wing usage starts?

I think it's going to get a lot more interesting, especially in the first couple of laps. It's going to be all over the place - maybe. But that will only be good, I guess! There's also the question of KERS. Do you use all of it at the start and have none left for the back straight, or not. There are going to be a lot of new challenges.