FEBRUARY 1, 2011
Launch Feature: Red Bull RB7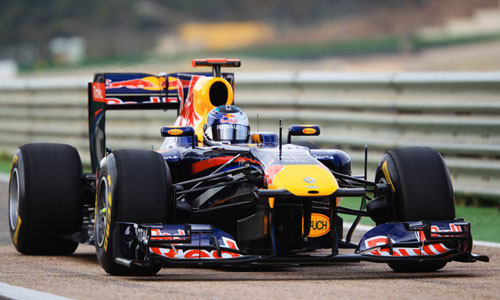 Red Bull Racing pulled the wraps off its new RB7 today in Valencia, the device with which it hopes to defend its drivers' and constructors' titles.

Instead of being hunter, Red Bull is now the hunted. "It's a new situation us," said team principal Christian Horner. "It's only 10 weeks since Abu Dhabi and those weeks have gone pretty quickly. The realisation of what we achieved last year is pretty special for every member of the team and the target is to do our very best to defend both of those titles, but the opposition we have in Ferrari, McLaren and Mercedes is formidable. The championship table won't lie at the end of the year.

"There's a huge amount of enthusiasm and a lot of commitment. We've had the shortest build and production time in Red Bull's short history and the effort that has gone in from the factory has been quite phenomenal. Adrian (Newey) doesn't release his drawings any earlier these days and they've just built the car in less time, sacrificing family time at Christmas. That's testimony to what we see here in the pitlane today."

Horner underlined that the team is not taking the successes of 2010 for granted: "We've won the titles in a relatively short space of time and I guess it's a bit like winning your first Grand Prix - out of it comes confidence but not arrogance. You have to remember that we are still an independent team with a customer engine that achieved some remarkable things last year. We face the longest season in F1 with 20 races, which is going to be a challenge, and I'm sure the performance among the different teams will ebb and flow at the different circuits we visit but I'm confident that over the course of a season we are well equipped."

Chief technical officer Newey described the RB7 as the third generation of a successful lineage that began with RB5.

"Preparing for the new season has been an interesting challenge for all of us," he says. "There have been a number of changes to the regulations and while not as comprehensive as the those for 2009, the major differences - such as the reintroduction of the KERS system and the arrival of a moveable rear wing to aid overtaking - have meant that the RB7 is quite different to last year's car.

"We're all struggling to recover the downforce that we lost principally through the banning of the double diffuser, front wing endplates and so forth. In some ways it's a restriction. The double diffuser did give us all a new avenue through the last two years and that's been closed. I'm sure some people will have clawed back more downforce than others but until everyone gets running properly it's very difficult to forecast how that will affect the pecking order."

Newey, having previously voiced concerns that the new moveable rear wing may increase overtaking but also make it meaningless, does not see it as a big issue.

"Overtaking will certainly be easier but whether it becomes like the old Monza slipstreamers when you wanted to be second going into the last lap, remains to be seen," he said. "I don't regard that as a problem though, because it's very easy for the FIA to retune it if that's the case."

The influence of the KERS reintroduction on the F1 status quo is an interesting area. In 2009 Red Bull opted not to run it, with its attendant weight and aerodynamic compromises, areas where the team is especially strong, but this time around believes that omitting it was not an option.

"RB5 was actually packaged to take KERS and we did run it briefly pre-season," Newey points out, "but we took the view that we had lots of other things to concentrate on and chose not to race with it throughout the season. Packaging is a challenge, coming up with a solution that doesn't compromise aerodynamics too much, and this year we're going to try hard to develop it through the pre-season so that we are confident it does give us performance.

"One of the things that became apparent in 2009 was that start line performance with KERS was important. Fortunately, the team that we were battling that year, Brawn, also didn't have it, so neither of us had an advantage. This year though, with McLaren, Ferrari and Mercedes having it and no doubt all being extremely competitive, we need to get it to work."

In 2009 the McLaren Mercedes KERS system was generally reckoned to be the most efficient and it will be interesting to see whether the 2011 systems are all relatively equal of whether any offer performance advantages.

"I think most people, including ourselves, are probably running developments of what we had in 2009," Newey explains, "so a Renault-based system for us. It's a partnership between Renault and Magneti Marelli and it's a little bit on the heavy side compared to what we believe the weight of other systems to be. If we spent a lot of money no doubt we could get some weight out of it but we're not in a position to do that. That's where we are, but I don't think it will be a big performance differentiator apart from the struggle to keep the cars underweight."

Sebastian Vettel, back from his first winter as F1 World Champion, enjoyed seeing No1 on his car for the first time, but is not expecting an easy time defending his title.

"You cannot always expect to have the best car," he said, "but with a 20-race season development is going to be more important than ever. After all the activities at the end of the season, which were enjoyable but tiring, I tried to switch off over Christmas and New Year, get away from F1, recharge my batteries and get ready for this year. I have been in the simulator a couple of times and I'm looking forward to the wheels turning again."

Vettel also poured cold water on winter stories of a future with Ferrari and on recent comments from Michael Schumacher that Mercedes would be daft not to make him an offer.

"I'm very happy where I am, very comfortable in the team," he smiled. "Obviously there is no racing in the winter but newspapers still need ink to fill them! It's a difficult question for anyone where they see themselves in five years."

Mark Webber was back looking tanned and fit after a disappointing end to 2010, when he was so near and yet so far from his title ambition, leading many to question whether the Australian could re-fire his motivation.

"Motivation is absolutely not a problem for any of us going into this campaign," Webber said. "It's enjoyable to upset other people's plans and that's what competition is about. We are going to try and do it again but we know we have a huge, huge battle on our hands.

"For me personally it's the same as any other season. I enjoy racing more than testing, I enjoy the monitor coming down in the cockpit but what's fascinating to this day, having been in F1 for quite a long time now, is seeing a new car developed and put together in such a short period of time, with such precision. To go and develop that car and work hard in the coming weeks to prepare ourselves for the first race is also exciting and that's the priority right now."