JANUARY 28, 2011
Montezemolo: I want to be winning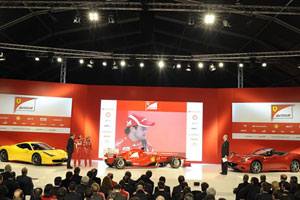 Ferrari president Luca di Montezemolo, at the launch of the team's new F150 chassis, says that Ferrari wants to win the championship after all of Italy's heartbreak in losing at the final race last season.

"The years go by but days like this are always full of emotions, full of hopes. I remember when I worked for Mr. Enzo Ferrari we always said, 'the car is pretty but what we want is that it's a winning car', so for me the car could be ugly but I want it to be winning. I'm pleased to see our whole family here, like in the past, with our new president John Elkham, Mr. Marchionne and all our partners, plus our drivers for the future."

"But we also have out current drivers here and what we don't want is to lose the championship at the last race, like in 2008 and last year. Felipe was champion when he crossed the line in Brazil, in 2008 and lost the title a few seconds later; as for last year I don't even want to talk about it to avoid getting angry. But from 1997 we've either won the championship or lost it just at the last race, with the exception of one season, so this shows how strong we are."

"We've improved the team without big changed, because stability is important although a bit of fresh ideas are always welcome. We cannot wait to start testing to see where we are against our rivals, as we have very strong competition."

"This is going to be a long season, a difficult season, so there's a lot of work ahead of us. There are things to work with, to improve the sport with the FIA, because this is the only professional sport in the world where you cannot train; and we have to reduce the dependence of aerodynamics, because this is motor sport, not aeronautical sport. The return of KERS is important because it's technological development that will be of use for our road cars and that's the way we'd like Formula One to keep on going."

"I wish to applaud the whole team, wish good luck to Domenicalli, encourage Fernando Alonso, who did a remarkable job for us last year and to our little boy Felipe Massa, who was a bit tired last year and put his brother in the car for the second half of the season. Now he's back and we wish him all the best for the new season."