DECEMBER 8, 2010
Group Lotus to take Renault stake in long term deal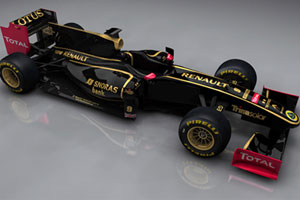 Group Lotus has confirmed its much-rumoured partnership with Renault F1 from 2011, with the team to be renamed Lotus Renault GP. The deal is for seven years to the end of the 2017 season and will see Group Lotus inject title sponsorship in excess of £100m over that period.

The new partnership has been enabled by Renault selling its remaining 25% share in the team to Genii Capital. Group Lotus will subsequently become a major equity partner in Lotus Renault GP, which it will co-own with Genii. Renault will continue its strong support as a supplier of engines and technological and engineering expertise. The team will continue to compete with the Renault chassis name and Renault will enjoy pre-eminent brand exposure on the livery.

"We are delighted that we can now go public with the news that we will be racing as Lotus Renault GP in 2011," said Genii Capital boss Gerard Lopez. "It is extremely exciting to begin a new era for the team in partnership with Group Lotus, and we will continue to enjoy a strong relationship with Renault over the coming seasons. It is a tribute to the excellent work this year by the team in Enstone that we have been able to attract both major sponsorship and new investment for a very bright future."

The team has also revealed its new black and gold livery - two months in the making - as it intends to recapture the iconic associations of the colour scheme prompted by the John Player Special Lotus sponsorship of the seventies and eighties. As things stand, however, the Tony Fernandes/Mike Gascoyne-led Lotus Racing, has announced similar plans for its team, entered as Team Lotus in 2011... The matter of ownership rights to the Team Lotus name in F1 is currently the subject of an action due in the British High Court after Fernandes purchased the disputed rights from David Hunt earlier this year.

Group Lotus CEO Dany Bahar, who has recent F1 experience with both Ferrari and Red Bull Racing, said: "I can think of no better platform for automotive brand communications than motorsport and F1 is the very pinnacle of open-wheel racing. We're well aware that there has been a lot of controversy around the usage of our brand in F1 and I'm delighted to be able to formally clarify our position once and for all: we are Lotus and we are back."

Group Lotus intends to use F1 to spearhead the marketing of a new era of sportscar production aimed at moving the brand up-market. Lotus New Era was unveiled at the Paris Motor Show in October, featuring the new Esprit, Elan, Elite, Elise and Eterne. It is understood that politics apart, Group Lotus wanted an association with a team capable of running at the front in F1 rather than waiting for the Fernandes/Gascoyne operation to develop the necessary infrastructure.

Genii, meanwhile, is also offering Group Lotus-owning Proton, "the ability to leverage existing business relationships in Russia and other parts of the world, as a means to expand Proton's global reach. Through Genii, Proton can also potentially access advanced automotive technologies by virtue of Genii's association with Mangrove, a venture capital group."

The Russian associations could lead to the assumption that Vitaly Petrov's seat alongside Robert Kubica is safe, athough Petrov was not confirmed at the same time as the announcement, which may have been anticipated. Some sources continue to suggest that Nicolas Todt's associations with Bahar and Felipe Massa's relatively troubled year alongside Felipe Massa at Ferrari could lead to both being part of the new Lotus Renault association going forward.

Enquiries along those lines were met with a denial, however, and we understand that it is 'likely' that Petrov will retain his seat with the team.