NOVEMBER 10, 2010
Is HRT deal the saviour for Barrichello/Hulkenberg?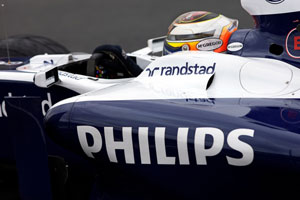 With the news that GP2 champion Pastor Maldonado will test with HRT as well as Williams in Abu Dhabi next week, it could be that Williams' recent deal to supply HRT with transmissions next year will ultimately safeguard the seats of Rubens Barrichello and Nico Hulkenberg at Williams next year.

Reports put Williams chairman Adam Parr in Venezuela recently, working on a deal that would secure Maldonado and a not inconsiderable sum of backing from PDVSA, the state oil company, to make Maldonado the second Venezuelan in F1 after Johnny Cecotto, who partnered Ayrton Senna at Toleman in 1984.

The problem, however, is that the Williams technical team is keen to retain Barrichello, who has been something of a revelation to them in 2010, and they also have a multi-year deal with '09 GP2 champion Hulkenberg, who took a sensational pole position for the team in Brazil last weekend, and who has now driven particularly strong second half of season races in Monza, Singapore and Interlagos.

The Williams financial position is not helped by the expiry of sponsorship contracts with RBS, Philips and Air Asia at the end of the year.

Talking of Williams development throughout the year, technical director Sam Michael said: "Our real turnaround was Montreal. The car was more competitive. We changed the aero package very significantly for there and that changed our direction. We changed how we developed the car and in terms of philosophy it was quite a big change to what we'd done for the last couple of years."

Barrichello is believed to have been key to that development and Michael confirmed: "Rubens is very good at feeding back what the problems of the car are. When you bring developments to the track with a driver like Rubens and have him tell you exactly and very quickly what it's doing, that's quite important. He's been exceptional for the team from that point of view."

In an era of reduced testing, such ability is considered particularly valuable but even Barrichello's position is not bullet proof if the chief concern is funding and Hulkenberg is showing increasingly strongly.

Questioned about the 2011 driver line-up at Interlagos last weekend, Patrick Head said: "Firstly, we're not making any statement on that until after the season, and b) if we've got nasty things to tell people, I'll let Adam Parr do it!"

That seems a fairly strong indication that he would like to see things remain as they are, in which case an HRT seat for Maldonado could be the best solution for all concerned. But, whether Maldonado/PDVSA can be convinced that a rumoured $15m investment for a seat in an HRT is a sensible step, is another matter.

It may not be as bad as it sounds. The deal could be structured in such a way that Maldonado does a learning year with HRT before being taken on by Williams. The funding could then potentially be split, giving HRT assistance at a difficult time too. Also, providing Geoff Willis is involved overseeing the chassis, next year's HRT is likely to be substantially stronger than the expensive but off-the-pace chassis Dallara provided the team with in 2010.

We await developments with interest as, no doubt, do Barrichello and Hulkenberg.