JANUARY 25, 2010
USF1 announces Lopez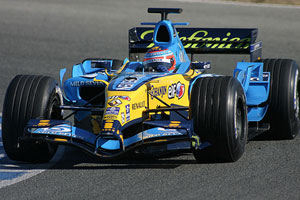 The USF1 Team has announced that they have signed Argentine driver Jose Maria Lopez to drive for the team in 2010. Lopez (27), previously raced in Formula 3000 in 2004 and GP2 in 2005 and 2006 - scoring one victory in Barcelona in 2005 - and was a Renault F1 test driver.

The deal was announced at a press conference with the President of Argentina, Cristina Fernandez de Kirchner, at the Government House, and she noted, "The Argentine government is very happy to get behind this exciting new project and we wish Jose Maria and the team all the best for the 2010 season."

Lopez said, "This is a truly memorable day for me, my family and the people of Argentina. I have been working towards this day for much of my life and I can't thank Peter (Windsor) and Ken (Anderson) enough for this opportunity. Of course a new F1 team faces many challenges but our goal is to improve with each race and build a foundation that will eventually see this team competing for wins and championships."

Team Principal Ken Anderson said, "So many things go into starting a Formula One team from scratch. You can nail every step along the way but if you don't have the right guys in the seats, everything else is for naught. With Jose Maria Lopez we have further positioned ourselves for a successful 2010 debut campaign."