JANUARY 5, 2010
Renault appoints Eric Boullier as Team Principal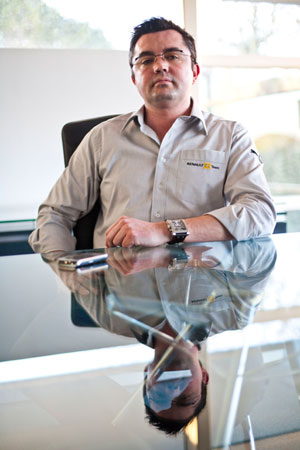 Renault has announced that it is appointing Frenchman Eric Boullier as its new team principal, with immediate effect. The 36-year-old had visited Enstone before Christmas with new team owner Gerard Lopez.

Boullier said at the announcement, "I am incredibly proud to be joining the Renault F1 Team as Team Principal. Renault is one of the most famous and successful names in motorsport and I look forward to leading the team

into the new season. In the past Renault has demonstrated that it is one of the top teams in Formula One and I am sure that with hard work and determination we can challenge at the front once again.¹

Boullier is a graduate of a French engineering school who went to work for RJ Racing in sports cars in 1999. After a year gathering experience he joined Jean-Paul Driot's DAMS team in Formula 3000 and then, after two seasons, moved to Spain's Racing Engineering, which was running Franck Montagny in the Renault World Series.

He returned to DAMS and worked with Montagny and Sebastien Bourdais in Formula 3000 but then DAMS switched to the Formula Renault V6 Eurocup and ran Jose Maria Lopez to the title in 2003. The team then ran Neel Jani in 2004 before moving into GP2 in 2005 with Lopez and Fairuz Fauzy and afterwards enjoyed a close relationship with the Toyota F1 team, running Franck Perera, Kazuki Nakajima and Kamui Kobayashi in GP2 for the Japanese company, while also fielding cars for Nicolas Lapierre, Jerome d'Ambrosio and others. In A1GP DAMS won the 2005-2006 title with A1 Team France, with drivers Alexandre Premat and Lapierre and also oversaw second-placed Team Switzerland with Jani.

In recent months Boullier had left DAMS and became the managing director of Gravity Sport Management, which is the driver management business associated with GenII, Lopez's company that has bought Renault F1.

Gravity manages the careers of Ho-Pin Tung, D'Ambrosio, Christian Vietoris, Adrien Tambay, Marco Wittmann, David Mengesdorf and Jim Pla. It will be interesting to see whether the choice of the second driver ® alongside Robert Kubica ® will reflect Boullier's experience. Obviously Renault would like to have a French driver and Montagny has experience, but Jani and d'Ambrosio might also be considered.

Boullier replaces Bob Bell, who has been doing the job of team principal since the demise of Flavio Briatore.