FEBRUARY 18, 2009
Silverstone reveals new track layout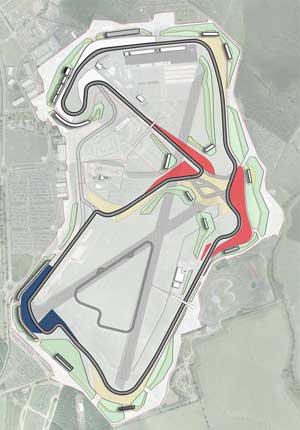 Silverstone has unveiled provisional plans for the MotoGP circuit. The most significant addition will be a new section of track running from the approach at Abbey corner to a spectacular 'Arrowhead' at the inside of Becketts. The Arrowhead will then join up with the existing National Straight. There will be additional changes to the layout at Chapel and Club.

The announcement follows the recent signing of a five year agreement between Silverstone and Dorna that will see MotoGP racing at the iconic Northamptonshire circuit from 2010. Several alterations are being made to make the circuit more bike-friendly. The alterations have already been extensively discussed with FIM and will be in accordance with their regulations and subject to final homologation.

The Arrowhead and its approach will provide a focal point for overtaking and will be surrounded by several new spectator areas. It will also be overlooked by the grandstand at Becketts, providing fans with an opportunity to see two sections of track from the one vantage point. Both MotoGP and British Superbike riders will also be pleased to see that the plans include the moving of grandstands and safety barriers at Woodcote. This will enable the circuit to build a new run off area at the fast entry to Pit Straight and dispose of the slow chicane, which is currently a necessity for safety purposes. The work will be carried out between November 2009 and March 2010. In addition to changes to the track, improvements to spectator viewing facilities will include moving some of the existing grandstands to bring them closer to the track.

This year's Formula 1 British Grand Prix will take place on the current Grand Prix circuit and that circuit will continue to be available to us for appropriate events. However, the new layout will be more suitable for two-wheeled racing.