JANUARY 29, 2009
Helping out Honda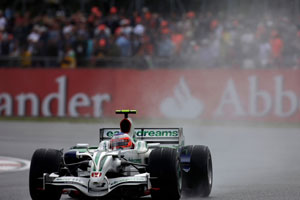 The Honda Motor Company still has to decide what it is going to do with its Formula 1 team and the latest suggestion, confirmed by all concerned, is that the Japanese are talking to the Department for Business, Enterprise and Regulatory Reform about financial aid to keep the team in business. The government has announced that it will provide up to $3.2bn in loans to help the car industry in the UK. Lord Mandelson, the Secretary of State for Business, Enterprise and Regulatory Reform, said that the government had to act to prevent an irreversible loss of skills and technology. The department has confirmed that Honda could apply for some of the funding and the team says it is in discussion with the BERR.

It seems that the Honda plan remains a management buyout but funding this is not easy although the team has some sponsorship revenues, TV money and would benefit also from Honda money. Getting a little government funding to keep the team alive would obviously help to fill the pot.

The government has said that companies wanting assistance must have a turnover of $35m, must work towards reducing carbon emissions, must create new jobs and must be at the cutting edge of technology.