JANUARY 15, 2009
Toyota unveils the TF109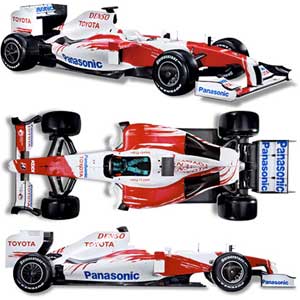 Panasonic Toyota Racing has launched its new TF109.

"Our target this year is to fight to win the first race for Toyota in Formula 1," says team principal Tadashi Yamashina.

The TF109 is a development from the successful TF108, which once again established Panasonic Toyota Racing as a major player. The TF108 secured two podiums and 56 points, more than 2006 (35pts) and 2007 (13pts) combined. There was a Toyota in the top 10 on the starting grid for 14 of the 18 Grands Prix.

"After eight years in Formula 1 we have gained a huge amount of knowledge and improved considerably," says the team's John Howett. "There are many elements of our team which are at the very highest level so the challenge now is to fill any gaps and ensure the entire organisation is performing at the very top. Then we must put all the elements together and deliver the success we are all fighting so hard for."

Yamashina has high hopes for the year and reckons that Toyota has one of the strongest driver line-ups in F1.

"I am excited to see what they can do with the TF109," he says. "Both drivers proved last season that if we give them a competitive car they are capable of fighting with the best in the world, so our challenge this year is to deliver a car which will allow them to do this more often."