JANUARY 12, 2009
Ferrari unveils the new F60 at Mugello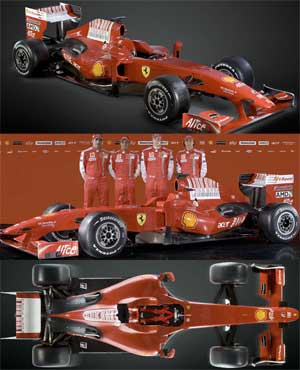 Ferrari has unveiled its 2009 Formula 1 challenger at Mugello, near Florence. The car is named the F60 to celebrate the company's 60th year of Formula 1 competition, which predates the World Championship, which began only in the summer of 1950. The car offers few surprises - the rules do not allow much - and the biggest change is that it is a much more elegant car than its predecessors, without the aerodynamics bits and pieces that have cluttered all the cars in the modern era. The downside of the new rules is that the front and rear wings seem rather ungainly, although it is hoped that these will improve overtaking and thus will be of great value to F1.

The car will also feature the kinetic energy recovery system (KERS) which will introduce the first hybrid concepts into the sport. Ferrari has developed a system in league with electronics partner Magneti Marelli. The team is rumoured to be a little behind the opposition on its KERS development and it is expected that much work will be going into the system in the weeks ahead. One of the key elements in the design of this year's cars is expected to be the weight distribution. In previous years many teams have designed cars that were well under the weight limit, thus allowing the engineers to move ballast around inside the car to get the optimum balance at each race. The introduction of KERS means that many of the teams have struggled to find a margin for ballast and this means that we may see some cars running without KERS at some events where the balance of the car is more important that the extra horsepower. Some of the teeams may have designed the cars to be able to run with or without KERS in order to take advantage of this need to compromise.

Ferrari has won eight Constructors' titles in the last 10 seasons, but only six Drivers' crowns. The team hopes to be able to continue this extraordinary sequence and both Felipe Massa and Kimi Raikkonen are keen to win the title. Massa went from strength to strength in 2008 while Raikkonen struggled badly. He needs much better results in 2009.