OCTOBER 31, 2008
Honda F1 runs Ingo Hoffman?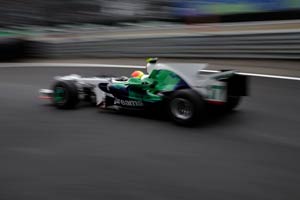 Ingo Hoffman is not a name that will create many waves with modern Formula 1 fans, but back in the late 1970s the Sao Paulo driver was Brazil's big new hope for the future. In 1976 he was named as the second driver for the Fittipaldi F1 team, alongside Emerson Fittipaldi. As the team had an entry only at certain races he also signed a deal to compete in Formula 2 with Willy Kauhsen's team, which was running a March. His F1 outings were not very successful and eventually the Fittipaldi team was clearly not capable of running two cars and so Hoffman was dropped. He spent two years in Formula 2 racing for Ron Dennis's Project 4 before returning to Brazil.

In 1980 Hoffman began racing in Brazilian stock cars and he went on to win an impressive 11 titles.

At 55 Hoffman has decided to retire and Rubens Barrichello decided to pay tribute to his fellow countryman and will wear Hoffman's helmet all weekend.

Honda will be running some new faces from Brazil in the course of the next few weeks with rumours suggesting that we will see both Nelson Piquet (Jr) and Bruno Senna in Hondas at the forthcoming Barcelona test.

The team has yet to announce its deal with Brazilian oil company Petrobras but we hear that the news will now be delayed until the New Year as Petrobras's contract with Williams F1 does not run out until then.