OCTOBER 8, 2008
The green grooves of Fuji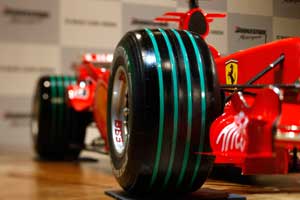 Formula 1 will support the FIA's Make Cars Green campaign by running on special green-grooved tyres at the Japanese Grand Prix. Bridgestone, a global partner for the FIA's campaign, launched the Make Cars Green tyre at a ceremony in Tokyo, with support from McLaren-Mercedes and Ferrari and their star drivers Lewis Hamilton, Heikki Kovalainen, Felipe Massa and Kimi Raikkonen.

The initiative aims to demonstrate that those involved in F1 support the FIA's goal of reducing the impact of motoring on the environment.

The link will be strengthened next year when F1 introduces the first energy regenerating hybrid devices, which are aimed at making the sport more relevant to the car industry and to help speed up the use of fuel-efficient technology on public roads.