JUNE 6, 2008
F1 at the Chelsea Flower Show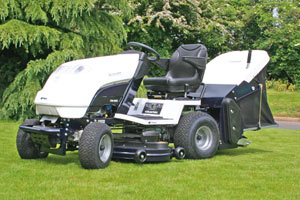 The Formula 1 world is not much associated with gardening, except when cars go flying off and go lawn-mowing across run-off areas. The Williams F1 team, often a pioneer in F1 marketing, has just launched the first F1-branded lawnmower, manufactured by Countax Ltd. The Williams FW-4WD is equipped with a 16hp twin cylinder engine, and with 4WD capability, this new mower has been designed to cut and collect grass on slopes up to 30deg, and in marshy areas of the garden where greater traction is required. The four wheel drive '4TRAC' technology has been developed by Countax specifically for its ride-on lawnmowers, with a unique ability to increase and decrease the turning speed of the front wheels to eliminate scuffing.

The Williams FW-4WD sports the latest team colours and is fitted with a 107cm/42" cutter deck as standard, however, alternative cutter decks are available including 97cm/38" mulching deck, and for really tough areas, the 92cm/36" high grass mulching deck will tame any paddock, scrubland or high grass area. Dense weeds, nettles and brambles can all be mulched into small particles, and large areas can be cleared very quickly.

The new mower was launched at the Chelsea Flower Show in London.