JANUARY 31, 2008
High hopes at Renault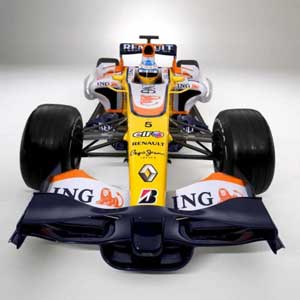 Renault chairman Carlos Ghosn turned up at the ING Renault F1 launch in Paris and said that he hoped that the team would do better in 2008 than it did last year. Quoting team principal Flavio Briatore, Ghosn said that the 2007 season had been "a disaster" but added that the team still finished third in the Constructors' Championship, an assessment based on the fact that McLaren was excluded rather than on track performance.

"There are two places in front of that," Ghosn said. "And I have a preference as to which one I want to see."

Ghosn said that the 2008 is going to be an important year for Renault with a lot of new products and he wants F1 to contribute as much as possible to boosting Renault sales.

Briatore said that he is hoping for wins and podiums - and expects to see them.

The engineers say that the problems of 2007 have been fully understood and fixed and that it is their ambition to get back into the hunt for the World Championship.

"We are confident that we are now back on track," said Bob Bell, the Renault technical director. "We have a very aggressive development programme for this year. Fernando Alonso drove the 2007 car recently and said it was a nice car to drive, but it did not have the grip of its rivals. We knew that we had a good product but we simply had a problem with the aerodynamics. It was to do with methodologies and so we had to look not only at the problem itself but also at what was causing it and why we did not discover it earlier."