JANUARY 14, 2008
A big day for Williams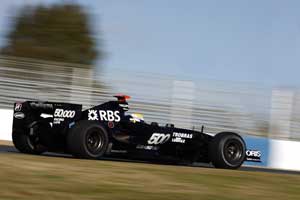 Today marks the start of the Williams team's 30th season of Formula 1 racing and to mark the event the team will unveil the first of six different liveries that will be used this winter to celebrate a sequence of landmarks in the history of the team, which will also take part in its 500th Grand Prix this year.

The Monaco Grand Prix, however, will be Sir Frank Williams's 600th World Championship event as an entrant, spanning 39 years. FW has missed only 23 races in the four decades in which he has been involved in F1, most of them following his road accident in 1986. He established Frank Williams (Racing Cars) Ltd at the end of 1966 and the team debuted in Formula 3 the following year. In 1968 the team ran in Formula 2 (during which time it employed a pay-driver called Max Mosley alongside hotshoe Piers Courage) and entered F1 with an ex-works Brabham at the Spanish Grand Prix of 1969 at Barcelona's Montjuich Park. Courage was second in the next race in Monaco.

In the years that followed Williams entered cars with a variety of different names including de Tomaso, Politoys, Iso-Marlboro and Wolf-Williams before establishing Williams Grand Prix Engineering with Patrick Head in 1977. The classic Williams FW07 won the team its first victory in 1979 and its first World Championship in 1980.

When the season begins in Australia, Williams will surpass Enzo Ferrari's record of 38 years as an F1 entrant. Ferrari was an entrant in Grand Prix racing before World War II but there was no World Championship at that point and so his record stretches only from the inception of the FIA series in 1950 to Ferrari's death in 1988. In that time his cars competed in 441 Grandes Epreuves (a little-used designation that means a World Championship event). Williams has managed 594 because of the increased frequency of races in recent years.

The team will reveal the new Williams-Toyota FW30 in Valencia on January 22 but the team says that it is not planning any kind of launch and will simply roll out the car and begin testing - in the finest traditions of the no-nonsense team.

The Ferrari team still holds the record for the most races entered in F1 with a total of 758 events out of the 785 Grandes Epreuves that have taken place since the World Championship kicked off at Silverstone in the spring of 1950.