JANUARY 7, 2008
McLaren launches the MP4-23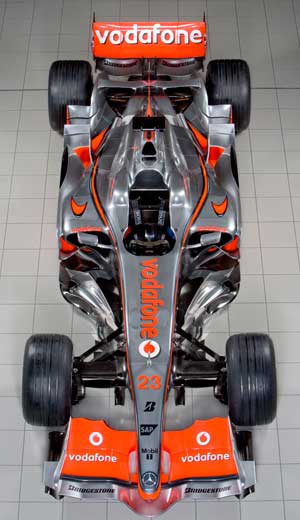 Vodafone McLaren Mercedes presented its MP4-23 this morning in Stuttgart and it was significant that the launch was attended by Dr Dieter Zetsche, the chairman of the Daimler Board and the boss of Mercedes-Benz - and by Formula One boss Bernie Ecclestone, who was prominently featured in the launch.

There was no sign of FIA President Max Mosley.

"All of us at Daimler are extremely proud of the tremendous track record of the Vodafone McLaren Mercedes team," Zetsche said. "They prove once again: You can't be with Daimler or Mercedes-Benz without wanting to belong to the best - that's in the DNA."

The message was unspoken but clear. Mercedes-Benz is quite happy to be associated with the team despite all the problems that it has faced in the course of the last 12 months. In this respect the presence of Ecclestone was also significant as he does not usually attend team launches.

It is also clear from the cars that the team has retained the support of all of its major sponsors. The only major changes are the disappearance of Spanish insurance firm Mutua Madrilena, which has jumped ship following the departure of Fernando Alonso, and Henkel. Johnnie Walker has moved from the bargeboards to the rear wing endplates. It is perhaps worth noting that there are now no sponsors on the bargeboards nor on the front wing endplates.

The car itself looks remarkably similar to last year's MP4-22 but is a completely new design which McLaren dates back to a first design meeting in November 2006. Design work began under chief engineer Tom Goss in March 2007 and in May the team began 3000 hours of windtunnel testing. McLaren says that the entire development process has involved 150 different engineers and 14,000 man-hours. At the moment there is little visual difference between the new car and the MP4-22 but the team says that a series of aerodynamic upgrades are now planned before the finished car appears in Australia.

"We are confident, based upon the simulation and analysis which has been an integral part of the development process, that the MP4-23 represents a step forward," says Martin Whitmarsh. "Of course we will continue to develop the car from now until the first race in Australia and see whether we have done enough to be at the level where we want to compete this coming season. From today we have 68 working days until the Australian Grand Prix."