NOVEMBER 21, 2007
Six weeks to go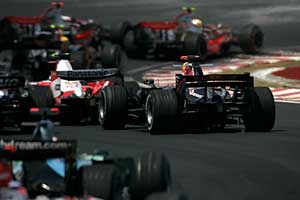 Forget, for one moment, about the so-called "issues of the moment": the McLaren appeal, the espionage crisis that Renault will soon have to face and the annual driver market hullabaloo. There is a much bigger issue floating along just below the waterline in Formula 1 which is much more important than all of these as there are now only six weeks left until the end of the Concorde Agreement.

This confidential commercial contract that has been the structure of the sport - admittedly in various different forms - since March 1981 when the F1 teams and the FIA agreed to settle their differences over commercial arguments that had been disrupting F1 for several years. This contract dictated the way in which everything has been run since then. The rules of the sport, for example, are appendices of the Concorde Agreement.

When the world celebrates New Year 2008 that will all be over and, at the moment, there is no clear idea what will happen next although the teams are entered in the 2008 World Championship. That was necessary back in April 2006 during one of the FIA's manoeuvres to get the rule changes it wanted. This forced dissenting teams to decide whether to sign up or face having no say at all in the rule-making process. Only those teams who had entered were allowed to take part in the rule-making discussions. The teams that signed up were BMW Sauber, Honda, MF1 Racing (now Force India), Prodrive, Red Bull Racing, Renault F1, Ferrari, Super Aguri, Scuderia Toro Rosso, Toyota, McLaren and Williams.

Prior to that Bernie Ecclestone has convinced all the teams to sign a Memorandum Of Understanding that defined a new financial structure for F1 for the period 2008-2012. The intention was for all of the sport's revenues to be consolidated and for the teams to get half of the money produced by the sport. The problem was that there were still disputes over how the decision-making process should be structured and, to a lesser extent, what the rules should allow. That memorandum was never converted into a contract because different teams had different arguments about specific issues. Williams, for example, believes that the current Concorde Agreement must be retained because its deal with Ecclestone included a clause saying that the Concorde Agreement arrangements would be largely unchanged.

The problem in recent months has been that of customer cars. Some teams see the logic of customer teams, others are fundamentally opposed to the idea because they argue that they will be forced out of business as the big teams expand and push their cars down the finishing order. The second half of the current season has shown that Scuderia Toro Rosso was able to use Red Bull cars to get results that were far better than those that would have been achieved had the team built its own machinery. And the Prodrive F1 project - which is now on hold because of the lack of a decision about the rules - was clearly intended to be strong enough to put cars into the top 10 right from the beginning.

There is some logic in allowing the big teams to expand to four cars - it beefs up the grid and brings improved value for money for those involved - but if it cannot fairly be done without wiping out long-established teams which have invested in the sport for many years, helping to build up the business to its current level of success, then it should not be done at all. These teams are stakeholders in the F1 business and should have a right to a voice.

There is also a philosophical argument that the very basis of Formula 1 - what makes it different - is that teams have to be constructors and that if other systems were more attractive they would have enjoyed far more success than they have.

There is plenty of evidence to back up this point. In the early 1980s CART was established for constructors. In the early years there was much variety with challengers from companies such as March, McLaren, Penske, Chaparral, Eagle, Wildcat and Phoenix. Other manufacturers such as Longhorn, Coyote, Parnelli, Lightning, Interscope, Primus and Rattlesnake did not win races but were all active to a lesser or greater extent. But the bigger constructors were able to invest more and by the mid-1980s March and Lola were so dominant that even Penske had stopped building his own cars. After that others came and went but in the end only Lola survived and CART was left with no choice but to become a one-chassis championship. Given modern aerodynamics this creates dull racing and so series such as CART's successor Champ Car and GP2 have had to resort to such devices as push-to-pass buttons and reversed grids, which do not appeal to the existing racing audiences and do not seem to attract new fans very much.

NASCAR was a series that seemed to buck that trend for many years. The cars were all pretty much the same but the sport remained a regional one in America's south-east for the best part of 40 years without making much international impact. As more money began to arrive, the pressure grew for teams to perform better and so they invested in technology. Having multiple cars gave an advantage in terms of additional data from testing and a more cost-effective approach in research and development, tooling, staff and so on. The midfield (or its sponsorship) was then gobbled up by the big operations. NASCAR has tried to stop this process by limiting teams to four entries but in recent days Roush Fenway Racing has agreed a "partnership" with Yates Racing which may not actually break the four-car rule but certainly stretches it to the full. Yates has entered into "a service agreement" with Roush that will see Roush provide the team with cars, technology and engineering support. Yates will lease a workshop next door to the Roush headquarters and the team has even "hired" Max Jones, the long-time general manager for Roush Fenway Racing, to be its general manager. One could argue that Yates is an independent entity in name only and that Roush will be running a seven-car team in 2008.

F1 would face a similar process if customer cars were allowed.

Spyker went to arbitration with Scuderia Toro Rosso and Super Aguri F1 to try to stop developments in this direction. It is clear that there is a strong case against the two teams involved and that if they are ruled to have breached the Concorde Agreement they will lose everything. This is obviously something to be avoided as F1 does not need to squander teams.

The fact remains that the talk of financial crises ahead is still just talk and it is not new. Such scare-mongering helps to obscure the reality that the sport produces plenty of money which could be used to support the less well-supported operations. Instead most of this money disappears into offshore trusts and to pay off loans. The real problem of the sport is that it is now in the hands of finance houses and at the moment dances to their tune because that suits the people in power. And challenging the status quo is a daunting task.

As long as the teams remain divided it will always be like this. One could argue that the best means of creating division is to find issues such as customer cars and unequal payments, to ensure that control is retained. Instead of taking the sport back and restructuring it, the teams quibble over details.

At the moment there is much discussion over an "Amnesty Agreement" to solve the current arguments about teams running customer cars. The compromise is simple (and rather generous). Toro Rosso and Super Aguri will be allowed to run customer cars for two more seasons but they must then become constructors in 2010. In addition all the teams will be paid prize money during this two-year period rather than the money going only to top 10 constructors. While becoming a constructor is an expensive investment, there is the added benefit that the manufacturers have agreed to supply customer engines for around $10m a year to help the smaller teams survive. This deal has yet to be completed and as long as it drags on so does the arbitration.

As talks about a new Concorde Agreement have faltered there has been a growing belief that the best way forward is to use the old agreement and roll it onwards, updating only the financial schedules.

What most of the players seem to want - in the long term - is a clear and unambiguous document that updates the original Concorde Agreement but also allows for more transparency and better structured corporate governance.

Whether anyone will get it is a different matter.

A better approach might be to look at the bigger picture and look for ways to disentangle the sport from the grip of those who care only for the balance sheets.