MARCH 12, 2007
Bahrain admits rip-offs, looks for a solution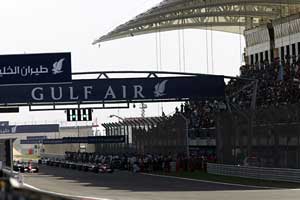 Bahrain has finally admitted that its hoteliers are taking advantage of the Grand Prix and have tried to find ways of bringing down the costs.

"We repeatedly hear that people are deterred from coming because of unacceptably high hotel costs," says Samer Al Shaikh, the Bahrain International Circuit's Marketing Manager. "This is something which requires a solution."

The circuit has thus announced that this year it has booked apartments around Manama and is selling them on to the fans from the Gulf region as part of a package which will include flights, circuit access and transfers. These are either two bedroom apartments which have three beds in them or one bedroom apartments with two beds in them. These will cost fans an average of $1200 for three nights. The catch is that the cost will be determined by the number of beds being used so that two people in a two bedroom apartment will be charged for the third bed as well, bumping up the cost unless they bring along a friend. The intention of this is obviously to boost the number of spectators at the event in addition to providing hoteliers with some competition and thus, hopefully, reducing the costs.

The circuit admits that some hotels are charging $550 a night, with a four-night minimum.