SEPTEMBER 9, 2006
Advantage Hamilton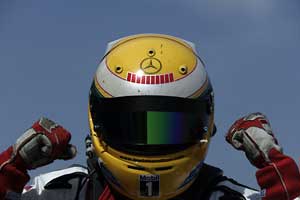 Giorgio Pantano might have won the GP2 race on Saturday at Monza but all eyes were on the fight behind him as Nelson Piquet Jr and Lewis Hamilton circulated in close company, Hamilton pressuring Piquet in the hope that the Brazilian would make a mistake. Piquet had taken pole position and thus gained two points (reducing the gap between the two men to eight points). At the start Hamilton was faster away than Piquet but was boxed in behind Pantano.

As the race developed Pantano led Piquet and Hamilton and that remained the same for the rest of the race with Piquet thus ending the day gaining back two points as the fastest lap went to Pantano on the last lap. Hamilton was content to sit behind Piquet because that will mean that he starts ahead of the Brazilian on Sunday morning when the top 8 positions on the grid are reversed. With six points between them and six available for a win on Sunday there is little chance for Piquet to win the title although he could add an additional point for fastest lap. Even if he scores a maximum of seven points Hamilton would have to finish sixth or worse. if the two finish equal on points and Piquet wins the race, Hamilton would still win the title as he has more second places.

With a starting advantage, however, Hamilton needs only to keep Piquet controlled behind him and the title will be his.