SEPTEMBER 6, 2006
A headache for Adrian Newey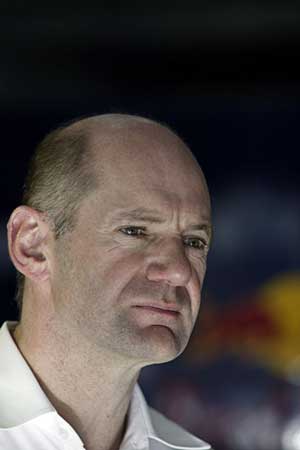 When he is not banging himself on the head while having accidents racing old sports cars, Red Bull Racing's Adrian Newey is worrying about next year's RB3 Formula 1 car. And with the summer holidays now over teams are becoming more and more desperate to discover what engines they will use next year. Without that information, the designers cannot get things into production and that will mean a later start to winter testing, which in the modern day and age is more and more of a problem. With more restrictions expected next year in testing, teams are looking at having time to fix anything that is not quite right before the season begins.

The problem is that Red Bull and Ferrari are having trouble sorting out their contractual situation. In theory Red Bull Racing will use Ferrari V8s in 2007 but everyone in F1 knows that a team with customer Ferrari V8 engines has never won a race while customer Renault teams have won victories in the past. Newey and his team of engineers at RBR want wins and thus would prefer to have Renault engines rather than Ferraris.

Ferrari does not want more Renault-engined cars in the F1 field, particularly if they have been designed by Adrian Newey.

The obvious solution would be for Ferrari to provide engines capable of winning races but this goes against the grain of thinking down at Maranello.

While the wheeling and dealing is going on, the RBR engineers have come up with a practical solution and are designing cars for both Ferrari and Renault engines. This, however, creates another problem as rivals are now worried (and are beginning to gripe) that one RBR design will end up being used by RBR and the other will go to Scuderia Toro Rosso, depending on the outcome of the engine negotiations.

Under the current regulations this is illegal. Last year RBR was able to hand on the RB1 to Toro Rosso because the car was actually designed by Jaguar Racing before Red Bull acquired the team and so the stipulations in the Concorde Agreement were met. Next year that cannot happen and it is inconvenient that the rules relating to selling chassis do not come into effect until 2008.

The options open to Red Bull are to try to change the rules a year early (which Honda, for example, might like) although it is hard to see some of the other teams agreeing to that (as they must); or Red Bull could get the few remaining designers at Scuderia Toro Rosso to cobble something together in the time available (which would have serious implications in terms of competitiveness).

If not the team could easily run into legal troubles and bad feeling in 2007 if the Red Bull looks too much like the Toro Rosso.

The team can no longer stay with the current cars as Red Bull has already reached a settlement with Cosworth to terminate its agreement a year ahead of schedule.

Come what may, decisions are needed quickly.