SEPTEMBER 1, 2006
Villeneuve and NASCAR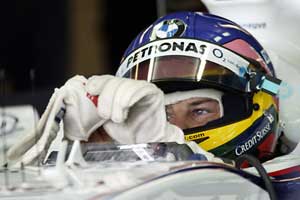 There are increasing stories suggesting that Jacques Villeneuve will be re-appearing in NASCAR next year. Villeneuve has made much of the fact that he believes that NASCAR is not a step down from F1 - and obvious thing to do in his situation - and that is an idea that NASCAR itself will be keen to promote. Thus Villeneuve will be welcomed with open arms by NASCAR as a way of increasing international awareness of the sport both in Canada and in Europe. NASCAR is expected to send its Busch Series to Montreal next year with the long term goal of the Nextel Cup going north of the border. Having Villeneuve in one of the cars will certainly pull in the crowds.

It is significant that since Villeneuve left F1 most of the Canadian journalists have stopped coming to F1 races and Canadian publications have stopped taking F1 stories.

Going into the Busch Series in 2007 would be a logical step for Villeneuve as that he can learn the ropes of the sport before moving up to the Nextel Cup in 2008. That should be easy enough as many NASCAR teams run cars in both series. The biggest problem is finding a sponsor to pay for the car. In this respect a deal is most logical with Red Bull because Villeneuve is a wellknown name both in the United States and in Europe. It should not be forgotten that prior to winning the World Championship with Williams in 1997, Villeneuve was the CART Champion and won the Indianapolis 500. Thus he would be a good fit for Red Bull that is a firm that is in racing for publicity and is not averse to hiring a high profile veteran. Villeneuve's free-spirited, danger-loving approach to life fits in well with Red Bull's edgy philosophies and there is a seat available at the new Team Red Bull operation, alongside youngster Brian Vickers. The team will be running Toyota Camrys. At 22 Vickers is very young and it might be good marketing for Red Bull to have an older figure as has happened in F1 with David Coulthard. It remains to be seen whether Team Red Bull is going to be able to run cars in both the Nextel Cup and the Busch Series but with large amounts of money available, that has to be seen as one possibility.

With NASCAR's driver market in a state of flux at the moment because of the new Toyota teams arriving in 2007 there are other opportunities but most of the big drives have already gone with Casey Mears stepping in at Hendrick to replace Vickers, Juan-Pablo Montoya replacing Mears at Chip Ganassi Racing. There is a vague possibility with Roush Racing as Mark Martin may retire and Jack Roush may not be fully confident that Todd Kluever is ready to take over. Villeneuve would be a real outsider for that as he is rather less prepared that Kluever.

Roger Penske might also be an option Penske is running two cars in the Nextel Cup at the moment with Kurt Busch (Miller Lite) and Ryan Newman (Alltel). He is also running a car in the Busch Series with Busch having done seven races (with two wins) in Penske Truck Leasing colours and Newman having done six races (with one win) in Alltel and Mobil colours. The team recently ran both cars in the Busch race at Watkins Glen. It is worth adding that this weekend Newman will be running a Nextel Cup car in full Sony HDTV colours, which looks a lot like a toe-in-the-water for the Japanese firm. In addition there are rumours that Penske IRL racer Sam Hornish Jr will be running some Busch Series races next year in a Penske car. Penske was running three Cup teams until the end of last year when sponsor Kodak decided not to race in 2006 because of the poor results of Travis Kvapil. At the time, however, the company said that it "expects to return to the sport with a more competitive team in 2007" and the implication was that it will be with Penske.

"Kodak looks to Penske Racing to develop a team that can perform at a high level consistently in 2007, and the company has a contractual commitment through 2008 with the Penske organization," it said.

Thus Penske could go into next year with sponsors Miller, Alltel, Sony and Kodak all willing to sponsor cars, with Penske Truck Leasing always available if finance is needed.