AUGUST 3, 2006
The question of Flavio Briatore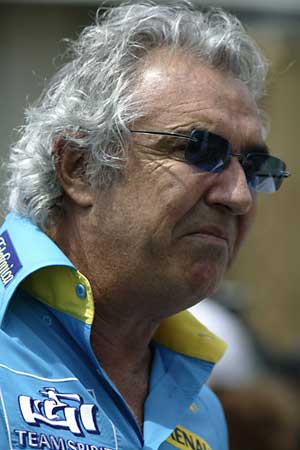 Flavio Briatore's future with Renault is yet to be finalised and, as with Jean Todt at Ferrari, this lack of a decision raises major questions. Briatore is widely seen as the man who is responsible for Renault's success in recent years, if only because he knows how to delegate to the right people and let them get on with it. Briatore's job is to work the politics (both within Renault and in F1 in general), to stand in front of cameras (a role he excels in) and to find the money. But if he is so good at all these roles why has he not been signed again by Renault? There is the obvious conclusion that he does not want to be associated with failure (he has been through that process before after Michael Schumacher left Benetton) and so may be waiting to see the package that Renault ends up with before committing himself to the task. A driver line-up of Giancarlo Fisichella and Mark Webber will suffice but one is not always convincing and the other has yet to make the big breakthrough.

And on top of that there is a very important question that has yet to be answered: what is going to replace Mild Seven as Renault's title sponsor. There has been very little talk of that in F1 circles. There has been talk of Telefonica stepping up to go head-to-head with McLaren's new Vodafone deal but without Fernando Alonso that makes less sense. The other team sponsors do not seem likely to increase their involvement hugely and out on the open market there is a certain amount of calm after the soccer World Cup. The funding of the World Cup is changing with a new structure of partnerships which has left a few big names floating around in the sponsorship market. Among these are McDonald's, Philips and MasterCard. McDonalds is enjoying success in US racing with sponsorship of Sebastien Bourdais in Champ Car and regular visits to NASCAR. Burger King is beefing up its NASCAR involvement next year and so McDonald's could follow that route but might like to go bigger and better. Philips is a Williams sponsor and may be encouraged to expand that operation. Mastercard is in an interesting position because rival Visa has moved into soccer and already has a big presence in other global sports and so Mastercard needs a high-profile outlet if it wants a big sporting deal. And, of course, the F1 marketing men will not have missed the fact that there is a certain amount of logic in Visa grabbing a big deal in F1 just to shut Mastercard out.

However, there may also be personal reasons as well. Briatore admitted this week that he had an operation of cancer in one of his kidneys. This was originally disguised as a kidney stone operation and one has to ask why there was a need to hide the truth. Encounters with cancer often cause people to reassess the way they live and there may well be an element of that in Briatore's indecision. In his recent interview with an Italian magazine in which he revealed the truth about the operation he talked of dedicating time to "myself and to those in need." While people magazines have a tendency to glorify those involved and create completely false impressions of the subjects, this is nonetheless an interesting remark and hints that life may be about to change for Briatore.