JULY 13, 2006
The fastest man in NASCAR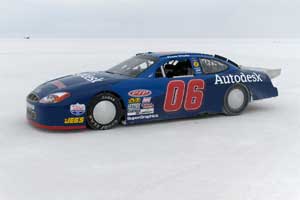 Juan Pablo Montoya may think he is the fastest thing in NASCAR, but Russ Wicks knows he is after setting a new record for world stockcars at the Bonneville Salt Flats last week.

The 40 year-old from Enumclaw, Washington, overcame the obstacle of an engine failure on his first day on the salt, which necessitated an 18-hour marathon trek by team members who drove to Colorado to collect a 792 bhp replacement. The following day, Monday July 3, Wicks did two brief runs to fettle his Autodesk Ford Taurus (an ex-Jimmie Spencer 1999 superspeedway car run by his own outfit under the direction of PTP NASCAR team owner Chris Diedrich) before two further runs yielded a new Bonneville Nationals Inc-timed record of 222.623 mph. That very slickly broke the near-35 year-old record of 216.946 mph established in by Bobby Isaacs in a Dodge Charger Daytona at Bonneville back on September 12 1971.

"That was awesome! Fabulous!" said Wicks, who is the only living driver to have set speed records over 200 mph on land and water (he holds the mile record for propeller-driven hydroplanes at 205.494 mph in the Miss Freei, set on Lake Washington in June 2000). "I just didn't want to get out of the car afterwards. That was the most fun I've ever had!"

Wicks' latest record was part of his ongoing American Speedking television series, and his ultimate goal is 400 mph on water. In the meantime, however, he is contemplating a return to Bonneville with the Taurus. The plan was to modify the car with an aerodynamic undertray, narrower front wheels, a larger rear wing and other sundry changes to enhance airflow, and to push his 'standard race trim' record to something closer than 250 mph on July 4, Independence Day. He reached 237 mph despite a 30 mph wind, running north, but had to abandon the return run when BNI president Mike Cook declared that the strengthening wind made things too dangerous.

"We have some unfinished business there," Wicks said. "From what we saw on that run, I'm confident we could push the stockcar record closer to 240 mph."