MAY 27, 2006
The succession at Michelin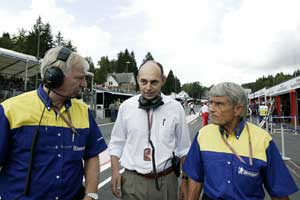 The death of Edouard Michelin in a fishing accident off the coast of Brittany has been a huge shock to the French tyre giant. The company other managing partner Michel Rollier, the chief financial officer, automatically took control of the firm following Michelin's death. He has been a managing partner for just one year but has been with the company for 10 years. The 62-year-old Frenchman studied law before working in the paper industry until he joined Michelin in 1996. He became chief financial officer in 1999 and a managing partner in Mya last year. It is not yet known what his attitude will be towards motorsport but the death of Edouard Michelin does remove from the scene a man who was highly critical of the way the sport is run at the moment after the debacle last year at Indianapolis.

The details of Michelin's death remain unclear at the moment. Michelin had gone fishing on Thursday night from the port of Audierne, near Quimper in Brittany with a local fisherman Guillaume Normant aboard a boat called Le Liberte. They were due to return at midday on Friday and the alarm was raised when the pair failed to appear. Searches were carried out with fishing boats and a helicopter and Michelin's body was found later in the afternoon floating in the water to the north of the Ile de Sein. The boat and Normant have yet to be discovered. Conditions were excellent but there had been fog on Friday morning.

The area is one of the most dangerous on the Brittany coast with strong currents and many rocks.