MAY 10, 2006
McLaren's debt - rumours and realities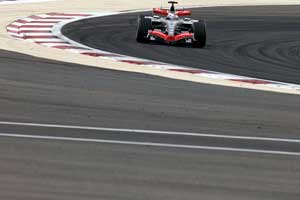 The French magazine Autohebdo ran story in this week's issue suggesting that McLaren has debts of $675m as result of the construction costs of the McLaren Technology Centre in Woking. There seems to be nothing to back up these figures as the team's most recent accounts do include some debts, carefully hidden away on the books, but nothing at all in the region of the money which is being suggested. The magazine also suggests that Mercedes-Benz has agreed to pay some of the debts as it owns 40% of the team but that unless the loan is repaid the company might take shares instead and thus gain control of the team.

It is not clear where the magazine got these figures from but the headline used, suggesting that the team has escaped bankruptcy, seems to be a little dramatic in the circumstances. The magazine is also suggesting that Mercedes is now keen to join the teams who want a deal with the Formula One group. While there is a certain amount of logic in teams now wanting to do a deal, one cannot help but feel that the story has been planted to try to stir up problems for McLaren at a time when it is rumoured to be negotiating for a big sponsor.

We think Autohebdo may end up with some irate phone calls from England.