MAY 3, 2006
Changing times for Bahrain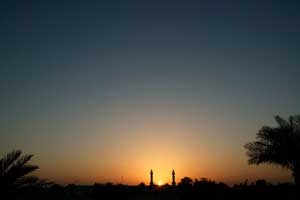 These are not easy times for Bahrain, despite the efforts being made by the authorities to create a tourist paradise in the years ahead. The Formula 1 Grand Prix is an important part of that process along with massive construction projects which are either underway or now being planned. The vast Bahrain Financial Harbour is already rising above Manama and elsewhere on the island work is progressing on other huge projects such as the $1.5bn Bahrain Bay development and Durrat Al Bahrain, a luxury marina resort which will be built on 13 man-made islands on the east coast. Over near the Sakhir Circuit there are plans for a several resort areas near the track and the Sakhir City business park.

In recent days a Danish company called Henning Larsens Tegnestue has announced plans to build a skyscraper in Bahrain which will be twice as tall as the world's current tallest building - at a startling 1022m.

But amid all this optimism and glitter, Bahrain has become increasingly troubled in recent months by civil disorder. In part this is due to economic unrest among the local population and in part there seems to be political and religious elements to the troubles as the Shiite majority campaigns for more of a political voice in the run-up to elections in the autumn. In the last few days there have been a series of "sound bombs" in an around Manama - which make a lot of noise - and Molotov cocktail attacks on police vehicles. On Sunday seven vehicles belonging to construction companies were set on fire by protesters. These demonstrations are designed to draw attention to the tensions in the country, just as the riot that took place during the Grand Prix weekend in March was meant to do.

Much depends on how the government reacts to the challenges and the choice seems to be to either oppress or appease. The latter may seem like a logical move but there are fears that Shiite influence from Iran will increase if the country liberalises too much. With Shiites representing 70% of the population and the power held by a Sunni minority, that might be a dangerous step for the current rulers. Perhaps economic development will eventually filter down to the man on the street and unrest will subside but Formula 1 needs to be aware and to watch developments carefully in the months and years ahead.