APRIL 27, 2006
Liuzzi walks away from a big one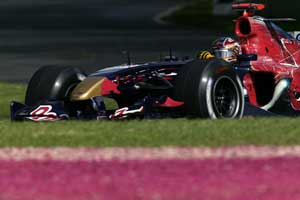 Tonio Liuzzi walked away from a sizeable accident at Silverstone yesterday, after the car went out of control at Becketts at 275kph. The car spun and hit the wall on the right side of the track. Liuzzi was unhurt but was mystified by the accident which occurred at a point on the circuit where the cars are running flat out, even on used tyres. Liuzzi was at the start of a run on a new set of tyres but had been through Copse Corner at racing speed so it was clearly not a question of the tyres not being warmed enough and the team was examining data to try to ascertain what had happened.

"At the moment we don't understand why it happened," said team boss Christian Horner. " He was going no faster nor slower than on previous laps."

It was Liuzzi's second test in as many weeks with Red Bull Racing.