APRIL 18, 2006
Todt talks about Schumacher's future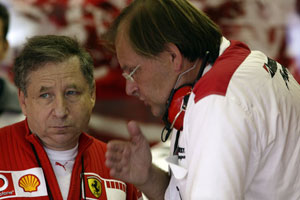 It being the holidays, the recent days have seen the Formula 1 rumour mill busy speculating about the future of Michael Schumacher. The 37-year-old Ferrari star says that he is not planning to make any decision about his future until July and his manager Willi Weber says that Michael is not even considering offers at the moment as he must first decide what he wants to do. Weber has however confirmed that there is interest in Michael from Renault.

"Flavio let us know that we should talk to him before we sign any contract," Weber told the German newspaper Bild. "He seems to be interested."

In Formula 1 remarks like this are never made without a purpose and one might assume (rightly or wrongly) that Weber has an offer in the bag from Renault and is seeing if Ferrari has a better offer. Ferrari has obviously covered itself by having some form of option on Kimi Raikkonen. There is talk that Ferrari must either confirm Kimi by the end of June or pay him $5m in compensation.

What is very clear is that things are not normal in the Ferrari camp as team boss Jean Todt has long made a habit of doing his driver deals well in advance. Michael's contract for 1998-1999 was signed, for example, in November 1996; his deal for 2000-2001-2002 was announced in July 1998; his renewal for 2003-2004 was done in May 2001 and the current deal for 2005 and 2006 was completed in June 2003.

It would be logical to speculate therefore that Todt would have planned for Schumacher's possible departure by signing a deal with Raikkonen at some point last summer. Todt clearly does not think Michael will go to Renault, as he pointed out with his usual charm and diplomacy.

"I do not believe what is written in the newspapers," he said. "This morning I read everywhere that Schumacher wants to go to Renault. That is stupidity in the first degree and so stupid that I will not react to it at all. I am convinced that it is one of our strengths, not to react to such speculation at all."

However, what Todt failed to explain in his reaction to the speculation is why a move to Renault is so stupid when Renault has won 11 races in the last 18 months while Ferrari has not scored a proper win (beating Minardi and Jordan at Indianapolis last year is not a victory which will figure in the pantheon of great Ferrari moments) since the autumn of 2004 - 18 months ago.