APRIL 13, 2006
Weber stalls on Renault's advance on Schumacher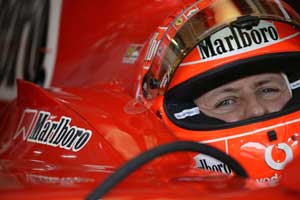 Michael Schumacher's manager Willi Weber is stalling over an approach to the seven-time champion from former boss Flavio Briatore of Renault.

According to Reuters, Weber said the 37 year-old German would not consider any offers until he had actually decided whether he wants to carry on racing in 2007.

"I told Flavio clearly that we are not talking to anyone until Michael decides whether he wants to carry on," Weber said.

"Flavio and I have known each other for a long time and talk a lot to each other. Flavio let on that we should talk to him before we sign another possible contract with Ferrari. He seems to be interested.

"The truth is that we would first talk with Ferrari."

Schumacher won his first two titles, in 1994 and '95, when Briatore ran Benetton, which later became Renault. Briatore's new prot?g?, Fernando Alonso, won last year's title of course, but is headed to McLaren for 2007, hence the vacancy.

As we mentioned yesterday, Schumacher is not due to make any decision about his future until July.