APRIL 11, 2006
More pressure for Klien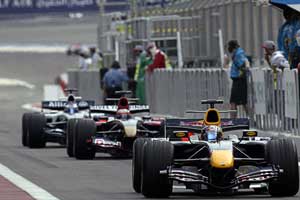 Red Bull boss Dietrich Mateschitz has again put pressure on Christian Klien to outperform Red Bull Racing team-mate David Coulthard. He did so just before the start of the season, too.

Having favoured the young Austrian over fellow Red Bull driver Tonio Liuzzi in 2005 - the Italian former kart champion got only four races in the Red Bull RB1 compared to Klien's 15 even though many people in the team believe that Liuzzi is the better long-term bet - Mateschitz has once more made it clear that Klien must improve in comparison to Coulthard.

Mateschitz wants two strong drivers in 2007 when his first Adrian Newey-designed contender will race, and told the Austrian press earlier this week: "We expect from a young driver that he shall be as quick as David. It has to be the goal for Felipe Massa to be as quick as Michael Schumacher, and Nico Rosberg must equal Mark Webber.

"If we invest, say, $50 million into a wind tunnel, into Ferrari engines and to get Adrian Newey, and the benefit of all this makes the car one second quicker, it simply cannot be that a driver loses that second in comparison with the other."

Mateschitz said that he regards Coulthard as one of the strongest drivers outside of the Fernando Alonso, Kimi Raikkonen, Michael Schumacher triumvirate, but not their equal. He likened him to Juan Pablo Montoya, about whom there has lately been much speculation outside the team of a possible move from McLaren to Red Bull for 2007. Within the team, however, there does not seem to be an awful lot of enthusiasm for that idea.

Instead Red Bull has been giving plenty of mileage to its young drivers to maximize their potential to develop to the Alonso, Raikkonen, Schumacher level, with Liuzzi and Scott Speed racing for Toro Rosso and Neel Jani doing its Friday test work. Liuzzi also had the chance to test the RB2 in Paul Ricard recently.

"That was a very positive test and Tonio liked the RB2 very much," Red Bull Racing's Christian Horner said. "The times were a little misleading that day as numerous other drivers cut chicanes, and he impressed the engineers."