APRIL 10, 2006
Ide cleared for Imola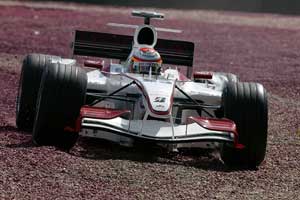 Super Aguri Formula 1 has thrown Yuji Ide a lifeline following suggestions that the Japanese rookie would be replaced before the San Marino Grand Prix next weekend following difficult outings in the first three races of the season.

Ide retired in both Bahrain and Malaysia, and trailed team-mate Takuma Sato home in Australia. Generally, the Formula Nippon graduate has been around two seconds per lap off Sato's pace, and clearly struggled at Albert Park.

Sources had suggested that he might be dropped in favour of Sakon Yamamoto for Imola. Yamamoto is also an F1 rookie but impressed as Jordan's third driver in Suzuka last year, albeit on a circuit he knows intimately.

"We are giving Yuji Ide our full support for the coming Barcelona test and the Grand Prix at Imola," Super Aguri managing director Daniele Audetto said today.

"After that, Aguri Suzuki will consider his performance and will make a decision on what is best for the SAF1 Team."