APRIL 5, 2006
The meaning of the word equivalency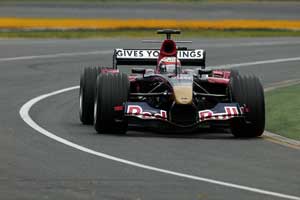 There has been some chuntering in the last few days about the performance of the Toro Rossos in Australia with some of the teams at the back making noises about life not being fair because the team is using V10 engines, albeit in rev-limited form. The potential for good results from Toro Rosso was seen in Bahrain but since then has been well hidden by the team's inability to use the machinery in a sensible fashion. In Australia the cars were running on a hard compound Michelin which meant that even if they looked rather good in the race they were probably not as impressive as they might be when the tyre choice is better. They would also have done much better in Australia if the team's pit stop skills were honed a little more. Thus one can expect the cars to go even quicker on occasion this year as the team gets its act together.

Complaining about the situation is not much good because the option to use normally-aspirated V10s was open to teams at the back of the grid. There does not seem to be anything outrageously wrong with the equivalency formula as there are no real signs that the V10s are quicker than the V8s. And let us face it, equivalency implies equality. If the engines are the same and the chassis is the thing making the difference then complaints about the engines are not really valid. Equivalency does not mean that Scuderia Toro Rosso has to be as slow as Minardi used to be.

Super Aguri F1 and Midland may not like being beaten by STR but that situation is unlikely to change unless they improve. It is possible (although unlikely) that the FIA might lower the rev limit if there are any outrageous results but then one gets into the question of what constitutes an outrageous result because teams should not be penalised for making progress.