APRIL 5, 2006
Montoya, Coulthard and Red Bull Racing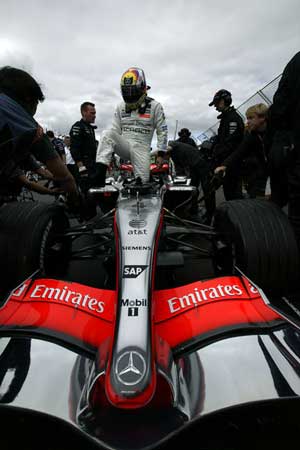 In recent days there has been talk that Red Bull Racing is considering hiring Juan Pablo Montoya. This has naturally led to suggestions that David Coulthard may move on. This may score column inches in the British newspapers but there does not seem to be much substance to the stories when one talks to the people involved. The team seems to be fairly keen on Coulthard, who lives up to the image of what Red Bull thinks a racing driver should be, and who has been doing a solid job in the machinery he has available. Perhaps solid is not enough but we have yet to find anyone in the team who has mentioned the name Montoya as a likely replacement.

Red Bull has generally avoided hiring big names for the sake of their names and has spent its money and energy on building up new stars. If the team does decide to drop either Coulthard or Christian Klien in 2007 it is far more likely that the replacement would come from its pack of young drivers, which includes Tonio Liuzzi, Robert Doornbos, Scott Speed and Neel Jani. The company has no shortage of rising stars with more than 20 drivers under contract in the junior formulae, including Michael Ammermuller in GP2, Renault World Series drivers Colin Fleming and Mikhail Aleshin and Formula 3 Euroseries drivers Sebastien Vettel and Sebastien Buemi.

The other point that is important is that Red Bull Racing is not really ready for bigger stars and really needs a solid pair of hands like Coulthard as the team builds up its competitiveness in preparation for stronger performances in 2007 and 2008.

The rumours may be coming from Montoya's camp as there are not many F1 teams which seem to be expressing much interest in the Colombian at present. There is no doubting that he is a very quick driver but with Williams and McLaren having failed to tame the talent it is unlikely that others will manage any better. As a result, if Montoya does leave McLaren at the end of the current season, he may find it wiser to look for work outside F1 as the offers available in F1 may not be ones which he wishes to consider. Montoya is a big name in the United States and Chip Ganassi, for example, would likely be quite pleased to get him back. Ganassi is currently running Dan Wheldon but the Englishman (who by coincidence is also managed by the same company as Montoya) is keen to get into F1, based on his success in America.

Formula 1 is a fickle world and if Montoya suddenly wins three consecutive Grands Prix one can see the situation changing but his performance in Australia, involving a spin on the grid, a spin behind the Safety Car and overtaking another car in similar circumstances (which would have resulted in a penalty if he had not retired) was not really what the big teams in F1 are looking for at the moment.