APRIL 2, 2006
Speed butts heads with FIA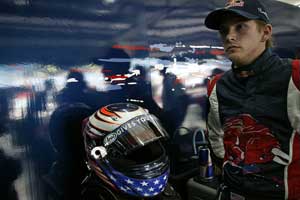 The FIA Stewards in Melbourne have deprived Scott Speed of his eighth place finish in the Australian Grand Prix. The American Scuderia Toro Rosso driver was reprimanded and given a 25 second penalty for ignoring yellow flags. Speed was obviously not very impressed by the whole process as the stewards added a second penalty of $5000 for using abusive language to another competitor during the stewards' hearing, ruling that such behaviour was "wholly unacceptable".

Speed, who has earned the nickname "Beavis", because of apparent similarities with a character from the American cartoon series Beavis and Butt-Head, may need to moderate his behaviour with FIA officials in future.

The time penalty means that "Beavis" loses his first World Championship point as David Coulthard now moves into eighth place.