MARCH 31, 2006
Show car better than no car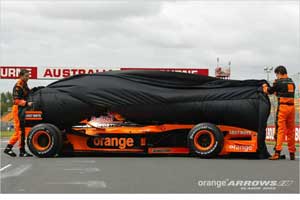 Wherever the Formula 1 circus goes, F1 teams and sponsors like to display cars to attract interest. The bigger F1 teams have entire fleets of what are called show cars, built for them by outside contractors, and loaned to sponsors and other interested parties. The smaller teams often cannot afford such luxuries and sometimes use old racing cars as show cars.

And thus is was that one of the old Arrows A23 chassis, raced in 2002 by Heinz-Harald Frentzen, ended up sitting in Terminal 3 at Melbourne Airport last autumn, painted up in the Minardi livery. The car, in which Heinz-Harald Frentzen finished sixth in Spain and Monaco, has been purchased from the receivers of Arrows at an auction in the summer of 2003. Paul Stoddart originally planned to use the cars as the basis for the 2004 Minardis but that plan was later abandoned and the A23s then faded from the limelight.

Until December 2005, when the new Super Aguri F1 team was looking for a shortcut to get ready for the 2006 Formula 1 World Championship. Stoddart offered the team the chance to buy the old A23s and use them as the basis for the Super Aguri SA5. The team jumped at the chance. Stoddart was not entirely sure where all the cars had ended up but like a good car dealer he did the deal anyway and then discovered that one of the chassis he needed was not in England as he had thought but rather was disguised as a Minardi and was on display in Melbourne.

After much bureaucratic effort A23-01 was exported to Britain, had a makeover and returned to Melbourne as a Super Aguri SA5, being raced by Yuji Ide.