MARCH 31, 2006
Liuzzi to test for Red Bull Racing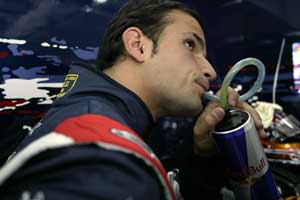 Scuderia Toro Rosso driver Tonio Liuzzi was spotted having a seat fitting with Red Bull Racing and our spies tell us that the Italian will test for the team next week at Paul Ricard. Liuzzi did a few races for the Red Bull team last year but was shunted out to Scuderia Toro Rosso this year, a frustrating move for the promising youngster, who arrived in F1 at the start of 2005 with the best-ever record of victories in Formula 3000.

Although Liuzzi has accepted the Toro Rosso role gracefully, there is no doubt that he is on a number of shopping lists up and down the F1 paddock and it will do no harm for Red Bull to offer him a glimpse of what could be available to him in 2007. It will also help to keep David Coulthard and Christian Klien focussed on their work. Both men have contracts which run out at the end of the year.

However the motivation for the forthcoming test seems to be of a rather more practical nature, as Coulthard and Klien are not available and the team wants to speed up development by running with two cars. Liuzzi will thus join the team's test driver Robert Doornbos working the development of the Red Bull-Ferrari RB2.