MARCH 17, 2006
Another scenario in the driver market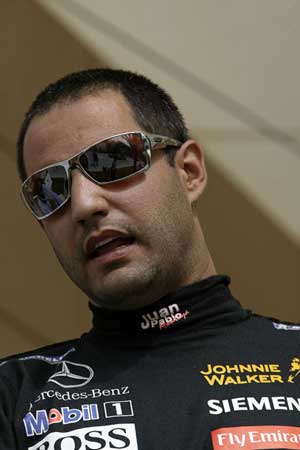 At the moment there is much talk about the future of Juan Pablo Montoya and whispers that he is talking to a lot of different teams. The logic in the paddock is that Montoya will go to Renault next year to replace Fernando Alonso. The theory is that with Mild Seven departing Telefonica will increase its Renault sponsorship and become the team's title backer but only if there is a Spanish-speaker with strong connections in Latin America.

Enter Montoya.

This makes sense for everyone apart, perhaps, from Renault because replacing Alonso is not an easy task and Montoya's form has been patchy. He is very quick but he has yet to show that he is the complete package. He had a chance at Williams and he has had a chance at McLaren.

But what other choice does Renault have? Obviously a cheap version is to promote Heikki Kovalainen and turn him into a megastar. That makes sense but what about established names? Who else is there in the really big league? Flavio Briatore is always a man with big ideas and is close to Bernie Ecclestone, who always has an eye on the bigger picture for the sport. Kimi Raikkonen seems to be bound for Ferrari but perhaps the reason the move is yet to be confirmed is because it is still dependent on what Michael Schumacher does. It is hard to imagine that Ferrari would ever show Michael the door as long as he is quick (which he clearly still is) and it is also clear that Michael does not seem to have any thought of retirement. Michael can be an accomplished actor on occasion but it is not a natural role for him. If he was quitting we would almost certainly know from his behaviour. So if Michael is not pondering retirement, why then would there be a delay in his decision-making process? Could it be that he is delaying his decision because he wants to be sure that he will be with a team that will allow him to win and then leave the sport in the right way, rather than fading gently out of the picture. If he looks around and tries to figure out which is the best car for the next couple of years, he might easily conclude that Renault would be a good choice. Yes, there are long-term fears for the French team in F1 and the management had made it clear that winning is the key but what if the Michael Schumacher arrived to replace Alonso? That would probably convince Renault bosses that staying in F1 for the longer term would be a good idea. For Telefonica, Michael Schumacher would be a perfect marketing tool, even if he doesn't speak Spanish. Michael is a brand. A big one.

And Bernie Ecclestone would have a great new story to sell to the world.

Michael is something worth paying for because Renault might then be able to sell more of its cars to adoring German fans.

Is this all just idle hypothesizing? No doubt some will say that is the case but that does not really explain the amount of time that Flavio Briatore spent talking with Willi Weber in Malaysia at the weekend.

No doubt they will say it is all speculation.