MARCH 8, 2006
So who's going to win in Bahrain?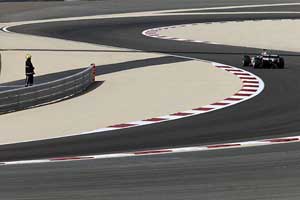 This is the traditional moment for a preview of the Formula 1 season and the opportunity for Formula 1 journalists to fall flat on their faces with bold predictions that they will live to regret in the months ahead. Over the years the scribblers have learned not to trust testing times as some teams have a tendency to make things look better than they really are, perhaps because they are chasing sponsors or trying to keep up morale. There are suspicions that at least one team - and perhaps two - has (or have) been playing such games this winter.

In fact the outright speed of the cars is also not necessarily the most important criterion as the durability of the tyre performance and track position may be more significant. It will be the ability to go quickly at the end of stints which could turn out to be more important.

In this respect Renault seems to have no competitors this year. For the last two years the cars have had impressive tyre wear rates (although for some strange reason they dropped off for a while last year after the San Marino Grand Prix) and that may well provide Fernando Alonso with the weaponry he needs to get a good start to the season. It will be interesting to see if the team dynamic at Renault has changed with the news that Alonso is moving on at the end of the year and whether Giancarlo Fisichella mounts a stronger challenge this season. Having said that, the Renault team is (largely) manned by serious and sensible people and so there should be progress and level-headedness.

In the overall scheme of things McLaren should be right up there if progress since last year has been linear. Alas, that does not seem to be the case because the Mercedes-Benz V8 engine has been rather less than stellar to date. It has improved in recent weeks but we have to see whether it will be enough to take Kimi Raikkonen to a position in which he can challenge for glory. This will be important because Raikkonen's future is in the process of being decided. The other interesting thing is how Juan Pablo Montoya will shape up this year. Theoretically he should start the year on an equal footing with Raikkonen after last year's catch-up process following Monty's extraordinary tennis calamity, that knocked a big hole in his performance. It will also be interesting to see whether or not the loss of important engineers will make any difference to the way the team works.

In testing the Honda team has shown well although the team's tyres do not seem to be lasting quite as well as those on the Renaults. The car, however, appears to have been consistently quick. If the Honda is as good as it looks Jenson Button may finally be able to get the monkey off his back and win a race before he breaks Rubens Barrichello's record for the most number of F1 races before a victory. The relative performance of the two men will be interesting to watch but as Barrichello is usually good with his team mates there are not likely to be fireworks. Both men may flourish if they find themselves with a winning car.

Ferrari is still a bit of a mystery because the team has not given many clues about what it can really achieve. There have been problems with the new 248F1 but it is not easy to distinguish whether these are because of the car or because of the tyres. Last year the tyres got the blame early on and then people began to realize that the car was also not perfect. The same could happen again. Having said that one must never write off Michael Schumacher nor the ability of the team to suddenly create miracles. Even for those with no religious leanings, the Maranello Miracles are astonishing and seem to pop up now and then (notably at Imola and Indianapolis last year). Felipe Massa has the chance to show that he has what it takes to be frontrunner in the years ahead.

Bridgestone is also going to be the key for Williams and Toyota. Team Willy is quite punchy about its hopes for the year and it is clear that the Cosworth V8 is a good engine. Whether the firm can keep up on the development that the others will do is an important question. The chassis seems to be quite useful but the tyres are currently only working well at higher temperatures. This will be fine in Bahrain and Malaysia but in the cooler climes of Melbourne and Imola we may see performance tail off, although Bridgestone is planning new compounds by that point. Mark Webber needs to go well this year while Nico Rosberg will want to establish himself as a bright young hope for the future.

Toyota should be edging on upwards but once again there is the Bridgestone question and the widely-held belief that the team is not going to break through until there are better drivers. This is probably not fair as both men have shown that they know how to win in the right car. The question therefore is whether this is the right car. One should never underestimate the work of Mike Gascoyne as he has always shown in the past that he knows what he is doing.

Red Bull Racing has won the prize for spending money in recent months but the cars have been only average in testing and things started out badly with overheating problems. The team said this was not a problem but inevitably there are those who say that if it was not a problem, it would not have happened. In theory RBR should be good. It is now packed full of smart engineers (although perhaps there are too many supermen in the same phone box) and has Ferrari engines and Michelin tyres. David Coulthard and Christian Klien seem a competent pair, both coming to life when the race is on.

BMW Sauber is going to be interesting to watch and could spring a few surprises. The engine seems useful and the old Sauber engineers have had money to play with in recent months (a rare thing) and so the machine should be better than last year's cars. The team has Michelin tyres which should be an advantage and Jacques Villeneuve is a brave man who needs a good year to keep his career moving forwards. Nick Heidfeld may not be fireworks in the paddock but he is paid to drive and he does that pretty well.

Scuderia Toro Rosso will probably overtake MF1 Racing this year (read Minardi will overtake Jordan if the new names do not appeal) mainly because the Italian team now has cash, a V10 engine and two quick drivers. Tonio Liuzzi is ready to make a mark having had a really frustrating season in 2005 as RBR's second number two, while the hopes of the United States rest on the shoulders of young Scott Speed. He is quick but in GP2 was not very good at consistently scoring points. This year he needs to measure up well against Liuzzi. He needs also to make sure that life as a Grand Prix driver does not turn his head away from the important matters.

MF1 Racing should have made progress (last year was pretty poor) but the question of money floats over the team whether they like it or not. The drivers are useful, the engineers should know what they are doing but the cars are on Bridgestones and so one cannot hope for too much.

And that brings us to the back of the grid where Super Aguri F1 will have a monopoly for a while. It is impressive that the team exists at all so any results will be a bonus but that is not likely to happen until the new car arrives. Even if this is a rocket ship it is still a new team and so at best this will be a learning year.

The biggest question of all is whether or not F1 will be exciting in 2006. And for those who ask that question there is only one answer: F1 is always exciting. And those who think otherwise don't really get it.