MARCH 6, 2006
Josh Rehm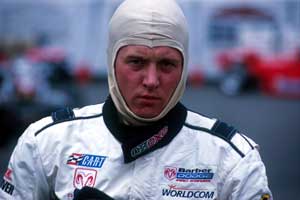 Josh Rehm, a talented racing driver, an enterprising businessman and one of the people who helped grandprix.com in its early years, has been killed in a road accident at the age of 27.

Rehm, from Plymouth, Massachusetts, started racing cars when he was 16. He went to the Skip Barber Racing School and in 1995 competed in the Barber Formula Dodge series, showing much promise and in 1996 he dominated the championship but money trouble meant that he could not progress although Skip Barber was so impressed that he took him on as a racing instructor. In 1998 Josh convinced five friends to go to races and work as marshals. The money they earned paid for the racing and, despite a shoestring budget, Rehm delivered winning 13 of the 16 races and taking the title for a second time. It would have taken an army of marshals to pay for the next step up the US racing ladder and Josh opted to continue his schooling and coach other drivers in his spare time. Wealthy pupils helped him race from time to time in the Barber Dodge Pro Series, Daytona Prototype and GT cars. At the end of 1999 the Inside F1 organisation (now grandprix.com) named Josh it's Young Driver of the Year, with the aim of helping Josh to achieve his ambition of becoming America's standard-bearer in Grand Prix racing. In 2000 he went to England and raced in Formula Palmer Audi and thanks to the scheme was able to meet Sir Frank Williams and Patrick Head and get advice on his career.

Sadly, his career continued to be blighted by a lack of money and Rehm ended up working part-time for grandprix.com while completing his studies, always a cheerful face in the office in New York. He raced when he could and was able to show well against the likes of AJ Allmendinger and Danica Patrick when he had the opportunity. After graduation Josh concluded that he had to make his own money and came up with the idea of a coffee delivery business, which he called Detroit Coffee. The business was booming.

In recent years he had raced occasionally in GrandAm but was an avid snowboarder, and it was en route from Colorado to his home in Massachusetts in a snowstorm that his car was hit head-on by an oncoming vehicle which had strayed into his path.

Grandprix.com offers its condolences to his family and many friends.