FEBRUARY 27, 2006
Waters talks about Formula 1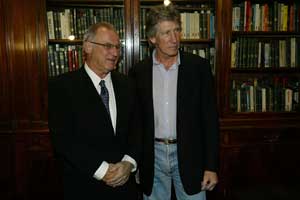 Rock legend Roger Waters was at the Automobile Club de France this morning in Paris talking about his plans to perform Pink Floyd's "The Dark Side of the Moon" at the French Grand Prix, the first live performance of the album since 1974. Waters will be joined for the performance by former Floyd drummer Nick Mason.

"It is a very complete work which still sounds fresh today," Waters said, although he admitted that his favourite Floyd album was actually The Wall.

Waters said that he was not planning to be at the Grand Prix on January 16 because he has a concert planned in Locarno, Italy, but said that his plans might change.

"Maybe I'll do that," he said. "It is only a short flight to Locarno. I'd love to do it."

Waters confessed that he had "a brief flirtation" with Ferraris and is still the owner of a Ferrari Dino 246 GT Spyder. He says he does not really keep up with all the regulation changes going on in the sport but says that it seems more exciting now than it used to be.

"It is less of a procession," he said. "That is a good thing. The sport has also go to be a lot safer and that is a very good thing. It used to be a lot more dangerous."

Waters said that one of his closest friends was 1976 World Champion James Hunt, until his death in 1993 from what Waters called "a surfeit of snooker".

"It amazes me to see the guys today and how fast they go in those machines," he added.