DECEMBER 19, 2005
Now here is a thought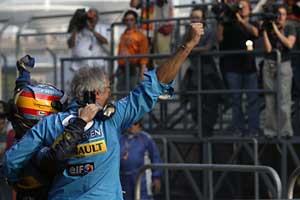 Fernando Alonso's negotiations with McLaren will almost certainly have involved his manager Flavio Briatore. At the very least Alonso could be expected to have had to inform his manager that talks were taking place with the Woking team. There is, after all, a contract between driver and manager and Briatore's management company presumably takes a percentage of Alonso's earnings. Thus Alonso could hardly do a deal without Briatore having known about it.

In the circumstances, in his other role as chief executive of the Renault F1 Team, Briatore ought to have been aware of an offer from McLaren and thus would either have to ignore that information (which would not have gone down well with his employers) or make an effort to convince Alonso to stay where he is.

And that means that either Renault was not willing to match the offer from McLaren, or that Alonso preferred to move despite the fact that Renault was offering the same deal. Neither of which is very flattering for the French company.