NOVEMBER 4, 2005
Ferrari continues to enjoy unfair advantage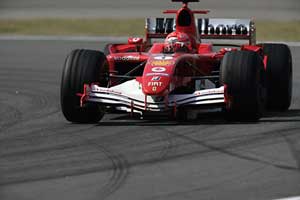 Ferrari continues to test at every possible moment with a lengthy test last week at Vallelunga and plans for a four-day test in Bahrain in the middle of November. The other F1 teams are still keeping to their gentlemans' agreement to restrict the amount of testing, to keep down costs, and not to test outside Europe.

The test in Vallelunga featured new boy Felipe Massa and test driver Luca Badoer, while the Bahrain test will feature Massa and Marc Gene.

Ferrari has yet to gain any advantage from all the extra testing because of its poor level of performance this year but if the team does eventually get back to a winning position that achievement will inevitably be undermined by the unfair advantage that the team insists on having.