OCTOBER 18, 2005
The Kimi and Michael Show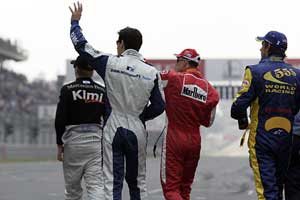 All the talk about Kimi Raikkonen going to Ferrari has thus far been predicated on the idea that the Finn will not want to be at Maranello with Michael Schumacher but the latest word we are hearing is that Kimi is actually keen to go up against Michael and beat him, and by doing so prove who is the top dog in the F1 circus. This is brave and at the same time expensive for Ferrari as Kimi will want a lot of money to race for Ferrari and Michael is not likely to take a pay-cut to fight with Raikkonen. However, it would provide an impressive team if the money could be found and with Philip Morris supporting Ferrari that might not be a problem as it was the tobacco company which funded the great McLaren teams of the 1980s with Niki Lauda and Alain Prost and later Alain Prost with Ayrton Senna. The difference these days is that the cars cannot carry as much overt cigarette advertising but it seems that Philip Morris is going to switch the branding from the cars and put the cars in the cigarette packets.

So could we see Kimi and Michael together at Ferrari in 2007?

It is certainly possible.